Gigante Salmon ready for autumn production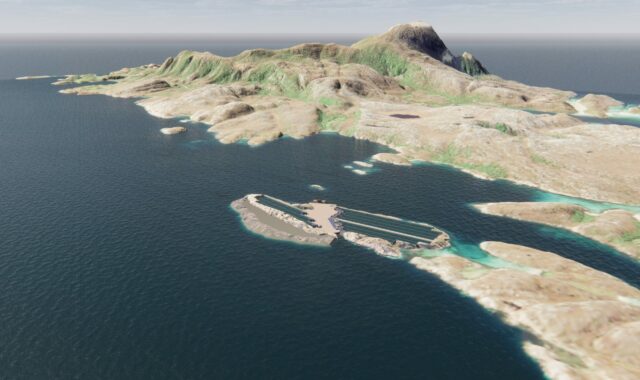 New land-based fish farmer Gigante Salmon said today it is on course to start production this autumn.
The company is building one of Norway's most advanced RAS (recirculating aquaculture system) facilities on the island of Lille Indre Rosøya in Rødøy.
Presenting its 2023 Q2 results, the company stressed it was still in the development phase, but Chief Financial Officer Rune Johansen said: "At this moment we are really looking forward to starting production this autumn, with 1.1 million smolt released into  the facility."
Gigante Salmon told the Oslo Stock Exchange this morning: "Long-term bank financing for the development in Rødøy, a construction loan of  NOK 204 million (£15.6m), has been granted by Sparebank1 Nord-Norge, and Eksfin has guaranteed 50% of the loan.
"As of June 30th 2023 , the loan has been drawn down by  NOK 147m (£11m). After the facility's completion, the construction loan is convertible into a repayment loan."
The company said there  were a number of activities related to the project that must be completed before start-up, and, in the coming period, good planning, management and prioritisation of outstanding work will be crucial.
Some activities must be completed sequentially, while others can be worked on concurrently, it added.
Most critical materials and equipment have been delivered and are either being assembled or installed, or are being prefabricated and assembled at another location before delivery to the  Lille Indre site.
Other construction points highlighted by Gigante Salmon included:
Concrete walls in production basin 3 are close to completion. Columns in basin finished, and PE-liners for installation on walls and floors delivered.
Electrical and automation: one (of four) containers containing power-distribution panels fabricated and ready for delivery.
In the technical area, pipelaying of intake pipes is ongoing and work on electrical conduit has begun.