Giant floating fish farm handed over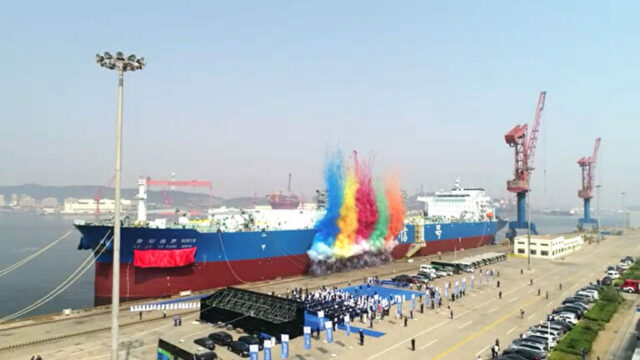 The Chinese company Qingdao Guoxin Development Group has taken delivery of a giant 100,000 tonne vessel which has been designed as a mobile fish farm.
Guoxin 1 has been described as a technological breakthrough in open sea aquaculture. The 249.9 metre long vessel (pictured) , which looks more like an ocean going oil tanker, will be able to harvest around 3,700 tonnes of fish a year and is said to be strong enough wo withstand the worst storms. There are two swimming pools on board.
The vessel will be operated by Qingdao Guoxin Development Group, which plans to build four similar mobile fish farms.
The eventual aim is to have 50 such vessels, although it is not clear if they will all be as large as the Guoxin 1.
Guoxin 1 was launched in January and has been undergoing sea trials over the past five months. It underwent the official naming ceremony at the weekend.
It is expected to operate in the South China Sea and Yellow Sea region. While the first harvest is expected later this year, it is not yet clear what type of fish will be cultivated on board. However, trials will be carried out with Atlantic salmon and local species peculiar to China such as yellow croaker.
The aim is to produce fish far out at sea, allowing any sludge to be easily dispensed with.
Dong Shaoguang, Deputy General Manager of the Qingdao Development Group told the media that the key technology is the non-stop water exchange between the cabin and the sea that makes the water environment on the ship enclosed and controllable.
This controlled environment also allows production staff to control pollution, and isolates the fish from exceptionally bad weather. The process is monitored using sensors, underwater cameras and an automatic feeding system.
The Qingdao Guoxin Development Group believes the vessel can increase the density of the breeding operation and shorten the aquaculture cycle time by at least a quarter.