German seafood giant in emissions fight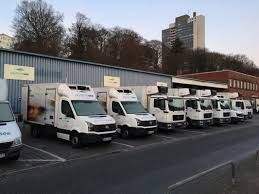 GERMANY'S leading seafood company has decided to appeal against a court decision which dismissed its lawsuit against the car giant Volkswagen AG for what it claims was a 'fraudulent misrepresentation' of VW's emission claims.
The company, Deutsche See, is reported to have demanded the return of vehicle leasing and maintenance costs totalling at least 12 million euros.
The case followed the emissions scandal which hit the German auto industry two years ago. VW has publicly acknowledged that the software used on millions of diesel vehicles artificially reduced pollutant levels in tests.
Deutsche See said in a statement that it has lodged an appeal in the regional court in the city of Braunschweig.
The seafood company's complaint was dismissed a month ago, and it is now looking to continue with its claim that Volkswagen deceived it when the two entered into an agreement to reduce the emissions of its vehicle fleet – which the carmaker denies.
Deutsche See and VW had signed up to 500 vehicle leases between 2010 and 2015 but it is claimed almost half of these were affected by the exhaust gas scandal.
Deutsche See has declared on a number of occasions that it is ready to talk to VW and would prefer an out of court settlement between the two companies rather than a protracted legal battle. But so far its overtures have been rejected by VW.
With manufacturing centres in Hamburg and Bremerhaven and more than 20 subsidiaries across the country, Deutsche See is a national market leader for German fish and seafood.
It supplies retailers and restaurants on a daily basis and it prides itself on its high standard environmental credentials. It employs 1,700 people.