German launch for Veramaris fed salmon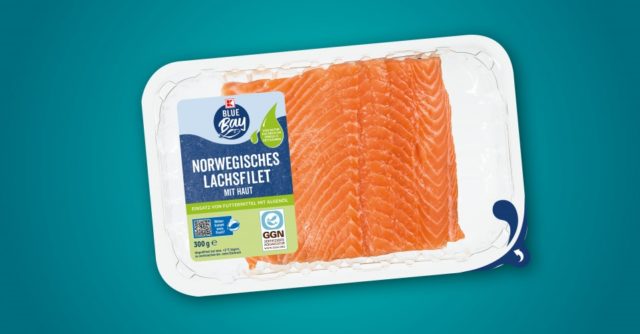 A GERMAN retailer is to become the first to sell salmon fed with Veramaris alternative fish oil made from marine algae.
Kaufland, which will market its product under its own brand, 'K-Blue Bay', said its goal was to reduce the amount of wild fish used in feed to less than one kilogram for the production of one kilogram of salmon.
Veramaris said its oil can increase the levels of the two essential omega-3 fatty acids, EPA and DHA, in fish, while  reducing the forage fish dependency ratio (FDDR).
Gaëlle Husser, Veramaris global business development director, said: 'Kaufland's decision to introduce salmon fed on Veramaris' algal oil comes quickly after similar moves by a number of other European supermarkets, including Supermarché Match in France, which has introduced salmon and just recently also trout raised on a diet including Veramaris.'
Trout produced by Truite Service, fed with a Skretting diet incorporating Veramaris algal oil, went on sale in France last week.
In 2019, salmon raised on a similar diet was first made available to French consumers by retailer Supermarché Match.
Elodie Petit, marketing manager at Skretting France, said: 'These new feeds are the result of decades of R&D by Skretting, and to secure such strong market support is a further demonstration that our long-term commitment to innovation is paying dividends for our value chain partners.'
Husser added: 'In France, [Supermarché] Match saw a 12 per cent growth in its salmon category following the introduction of the sustainable salmon, a clear indication that consumers are demanding fish that is nutritionally superior and sustainably raised.'
Netherlands based Veramaris, a joint venture between DSM and Evonik, produces algal oil at its large-scale fermentation facility in Blair, Nebraska, in the US.
Consumers in Germany will be able to buy Veramaris fed K-Blue Bay salmon in Kaufland stores from February 27.