Gael Force delivers feed barge to Muck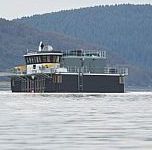 GAEL Force Marine of Inverness has delivered a Sea-Mate 400T Feed Barge to Marine Harvest Scotland's Isle of Muck site.
The barge was under tow on a four-day journey covering almost 300 nautical miles to the west coast and the Island of Muck.
With a 400-tonne capacity, this is the largest and most sophisticated barge Gael Force has produced and has been designed especially for Marine Harvest Scotland and their new salmon farm on Muck.
Muck is one of a number of open sea farms that are being developed as part of Marine Harvest Scotland's expansion to meet increasing demand for farmed salmon.
Jamie Young, sales director of Gael Force Marine said: 'We are delighted to have worked with MHS to provide the correct product needed for the installation.
'This is a significant investment by Marine Harvest Scotland, which they have committed to a highland based business and we are very pleased to confirm that we have secured a second build of the same design for delivery in early 2015.'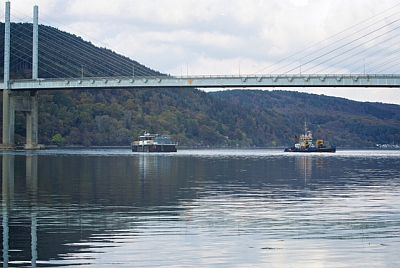 Full technical spec:
The new 400-tonne barge is a first for Marine harvest and a new design for Gael Force. The barge has been 6 months in design and build producing a real flag ship unit for the industry.
The barge has a dry weight of 930 tonnes and took four days to tow round to the west coast, where it is to be utilised on the new site at the Isle of Muck.
The barge has been designed to allow full flexibility and at all times ready for future upgrade and development.
Installed with a six line AKVA CSS90mm feed system complete with air monitors, the barge has the ability to draw feed from two silos to any one feed line, allowing more opportunity on feeding regimes.
Using AKVA's latest software and camera systems the barge will be able to feed fish in an extremely efficient manner.
From the elevated wheel house the site staff will be able to get a panoramic view of the site, and maintain constant view of the stock.
From this elevated position the operator can view all plant rooms through the barge on its own internal CCTV system, giving nine views as well as an additional Pan and Tilt camera located on the roof to monitor the silo fill points.
The silos themselves are fitted with a remote operating hatch. Controlled through a remote, the silo can be opened from the feed boat reducing the need for staff to be on site when feed deliveries happen.
The accommodation space is well equipped for the staff to have comfortable down time, with a fully fitted kitchen and dining facilities as well as a lounge area where they have a large screen to continue monitoring the feed system and cameras or indeed use as a display for staff presentations.
The drying facilities will let the staff remove all foul weather gear before entering the accommodation, and adjacent to this they have a room specifically design to act as a vet room.
The barge design has included an ensiller, with the capacity to ensile 2000l morts with a further holding tank with 10,000l capacity. Mounted at the bow below deck is two large air compressors for mort retrieval and aeration.
The whole barge is powered by two generators, one 250KvA  and a second auxiliary unit of 110Kva.