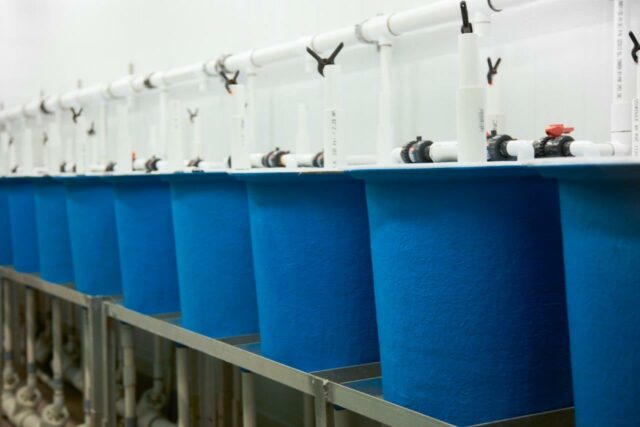 Navigating the regulatory process in product licensing requires the right certifications and guidance, and the right aquaculture contract research organisation with GLP, GCP & GMP certifications
Product licensing is a long, intricate process, and a daunting endeavour for even the most experienced of organisations, let alone for ambitious entrepreneurs new to the industry. Ground-breaking ideas that could shape the future of seafood production or revolutionize the aquaculture industry often hit roadblocks during the licensing process due to the complexity of navigating the numerous health authorities and intricate regulatory landscape in different countries. These roadblocks add delays and unexpected costs to products on the road to licensing.
That's why it's crucial to follow a process that includes testing for safety, efficacy and consistency during the licensing process. Partnering with an Aquaculture Contract Research Organisation (CRO), that possesses GCP processes as well as GLP and GMP certification, ensures that the highest standards of compliance and quality throughout a product's licensing journey are met. Picking the right CRO to help navigate this regulatory landscape is the best investment to make in a product licensing journey.
The Center for Aquaculture Technologies Canada (CATC) is the premier Aquaculture CRO equipped with OECD GLP (Good Laboratory Practice), GCP (Good Clinical Practice), and EU GMP (Good Manufacturing Practice) certifications. Certifications serve as a powerful testament to the safety, quality, and compliance of your product, instilling confidence in both consumers and stakeholders. With CATC as a CRO partner, an organisation gains access to a wealth of experience and connections with regulatory authorities and certification bodies.
Navigating the regulatory process within the aquaculture industry is a complex undertaking that demands comprehensive knowledge of local, national, and international regulations, as well as an understanding of the unique challenges faced by the industry. CATC's team of experts possess an in-depth understanding of the regulatory framework, enabling them to guide a company seamlessly through each step of the licensing process.
CATC prides itself on being at the forefront of research, development, and regulatory affairs. Its state-of-the-art facilities and cutting-edge technology empower companies to conduct rigorous testing, data analysis, and research, all while adhering to the highest standards of GLP certification established throughout the quality program, ensuring that all studies have the same level of integrity. With their certifications and quality standards, everyone can be confident that all products will meet and exceed regulatory expectations.
Complex regulatory processes don't need to impede the progress in bringing visionary aquaculture products to the market. Selecting a CRO with a collaborative approach that fosters open communication will allow anyone to work from concept inception to product launch fluidly. CATC comprehends the unique challenges faced in the aquaculture industry, and is committed to providing tailor-made, bespoke solutions to meet a company's specific needs. Choosing CATC as an Aquaculture CRO partner, equipped with the necessary certifications, GLP, GCP, and GMP, will allow it to expertly navigate the regulatory landscape on a company's behalf.
Contact the CATC team today and embark on a regulatory journey towards success. Let them be your trusted guides as you shape the future of aquaculture innovation, one certified step at a time.