Fresh salmon prices continue to climb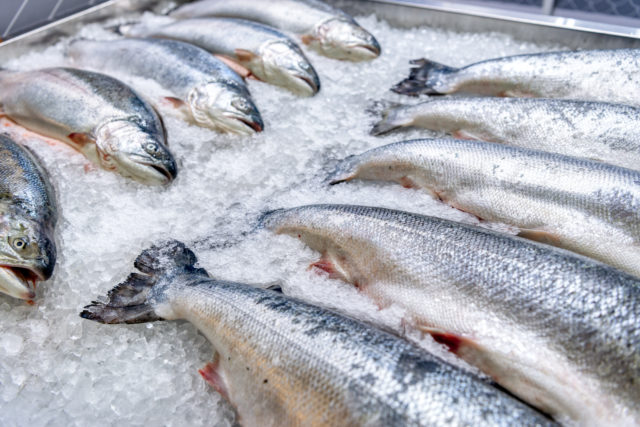 Salmon prices rose sharply again last week with industry insiders asking, "how far will they go?".
According to Statistics Norway, which regularly monitors price trends, fresh salmon rose by almost 9% to NOK 97.51 per kilo (£7.98) in week two.
The corresponding export price this time last year was NOK 72.05 per kilo (£5.90).
Export totals, however, were around 2,000 tonnes down on 12 months ago, emerging at 15,402 tonnes. The figure, however, is 3.7% higher than week one at the start of the year.
Frozen salmon exports were up at 391 tonnes with an average price of NOK 84.48 a kilo (£6.91) against NOK 76.18 (£6.23) the previous week.
Fresh salmon prices are currently approaching the same record levels they reached last May.
While there may be periodic corrections, analysts expect expected them to go even higher in the run up to Easter this due to lower supply growth.
This is despite uncertainty over issues like the salmon farm ground rent tax which continues to rumble on.
The situation is also being reflected on the Oslo Stock Market with the share price of a number of salmon companies on the up.
Mowi, which reported record 2022 final quarter operating profits a few days ago, rose by almost 1.41% to NOK 180.40 (£14.76), while SalMar's price strengthened by 2.51% yesterday and Grieg, despite reporting higher costs, rose by 3.71%. Lerøy climbed by 1.70% to NOK 56.70 (£4.64).
Share prices were also helped by the news that the US Department of Justice has ended its investigation into alleged price collusion on the part of four of Norway's largest salmon companies.