French praise for Scottish salmon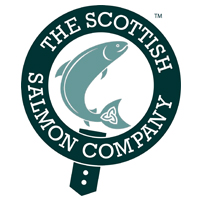 The Scottish Salmon Company showcased its premium salmon and production expertise to more than 185,000 chefs, buyers and hoteliers from across the world at an exhibition in Lyon, France, last weekend.
The Edinburgh based firm was invited to attend the annual Sirha exhibition, a world famous professional trade show open to the top line food service and hospitality industries, as a sponsor of the event's new Golden Fish fishmonger competition.
The competition was organised by the Federation des Poissonniers Écailleurs Traiteurs Rhones-Alpes (FDPETRA) and was held at the Sirha exhibition on Tuesday, 27 January.
The competition saw eight master fishmongers from all over France compete for the title by preparing and presenting the Scottish Salmon Company's Label Rouge salmon, as well as other species of fish, and also answering questions to demonstrate their knowledge of seafood.
Competitors were judged by a panel of seafood professionals, chaired by one of the most talented fishmongers in France, Etienne Chavrier.
Craig Anderson, managing director of the Scottish Salmon Company, said: 'We were delighted to attend an exhibition with such a global audience as the Sirha exhibition, and to support the Golden Fish competition.
'This provides a really excellent platform to celebrate the hard work and dedication of the fishmongers in France who are so integral to the whole industry.
'The event was also the perfect opportunity for us to showcase the premium quality of our Scottish salmon to the world.
'We are very proud to have been accredited with the highly coveted Label Rouge quality mark for our salmon products and this is contributing to an increased demand for our products internationally and at home.
'We are also seeing demand increase from a number of new markets, including countries in the Far East such as China and Thailand,  due to a growth in healthy eating trends and the prevalence of Japanese and high end cuisine.'
Cedric Bejaoui, president of FDPETRA, said: 'The Sirha exhibition is a celebration of the best people, products and innovations the international food service and hospitality industries have to offer.
'The Scottish Salmon Company's pride in its Scottish heritage and its confidence in the quality of its produce makes it an ideal fit with the aims of the exhibition.
'We are pleased to welcome the Scottish Salmon Company to France, and are proud to be able to display their produce to our visitors.'
The Scottish Salmon Company is engaged in all stages of the value chain, from smolt production to harvesting and processing, as well as sales and marketing activity.
It operates 60 sites across Argyll, the west coast of Scotland and the Hebrides and employs around 490 staff.
It produces more than 30,000 tonnes annually, about 20 per cent of Scottish salmon, supplies leading UK retailers and exports to over 20 countries worldwide.