French love Label Rouge salmon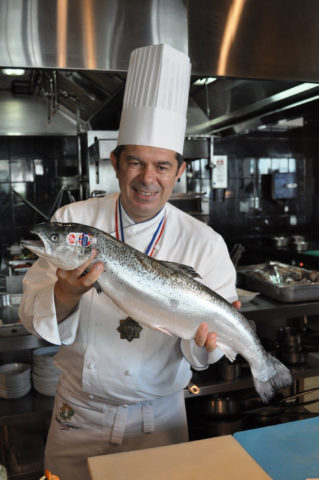 Latest export returns prove that love is firmly in the air for Label Rouge Scottish salmon as its popularity continues to grow.
Following another period of strong growth in 2014,   almost 7,000 tonnes made its way to France last year, achieving significant growth since records began in 1992.
This news comes as Label Rouge Scottish salmon celebrates its 23rd anniversary since the French government awarded its prestigious 'Label Rouge' quality mark of distinction.
For more than 10 years, Scottish salmon was the only non-French food to meet the quality scheme's rigorous standards reserved for food considered to demonstrate superior quality and taste.
Scott Landsburgh, chief executive of Scottish Salmon Producers' Organisation, said: 'We are delighted to see the popularity of Label Rouge Scottish salmon continue to rise.
'The French are renowned for their refined tastes, and these results prove how implementing high production standards to produce quality and distinct flavours can help succeed in this market where superior healthy food is key.
'I am proud to say it has been the ingredient of choice for many Master Chefs of France through the years, gracing the dining rooms in some of the world's top hotels and restaurants, and we look forward to it taking centre stage at the Master Chefs of France annual general meeting next month.'
Label Rouge Scottish salmon is a niche product developed specifically for the French market.
Scottish salmon is Scotland's largest food export and the industry is a vital employer to remote rural economies in Scotland, providing sustainable, long-term careers.
The picture shows Master Chef of France Christophe Prud'homme holding Label Rouge Scottish salmon.