French innovators impress investors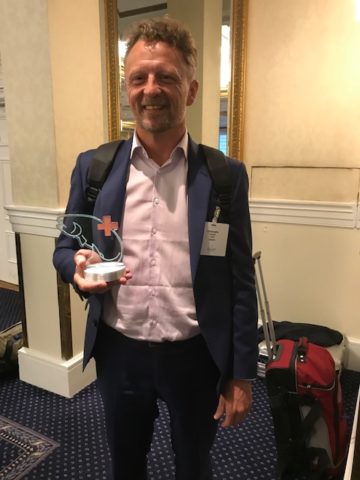 TWO French innovators scooped top honours on the final day of the Aquaculture Innovation Europe conference in London today, after a vote by delegates representing the industry and investors.
The microalgae firm Inalve was the winner in a close run contest, with its patented technology aimed at reducing farmers' dependence on wild fish for feed.
'What the feed industry is now looking for is a rich alternative protein…and we at Inalve have found one,' said CEO and co-founder Christophe Vasseur.
His aim, like all the innovators taking part in the conference, was to 'make aquaculture great tomorrow, starting today'.
The company, a French university spin-off, capitalises on more than 25 years' experience in R&D in microalgae, and has already won more than ten innovation prizes in the past three years, said Vasseur.
The technology produces microalgae that is suspended in the water, in a biofilm system which reduces energy and water consumption, and therefore has a very low environmental footprint, said Vasseur.
Inalve has formulated the microalgae into two products: an algae meal with protein as nutritious as fishmeal and a natural source of omega-3; and an algae additive, providing health and growth to the animals.
Vasseur said their biorefineries out-compete alternative technologies on the market such as insect meal, plant protein and animal protein, on both cost and productivity.
Inalve has established proof of concept over the last three years and has secured three million euros in private and public investment.
The company is now scaling up production in the south of France and will provide ingredients to the aqua feed market next year.
By 2023, Inalve will be producing 1,000 tonnes of microalgae feed a year from its pilot farm, Vasseur said.
The French innovator Flavie Gohin of Fishency Innovation was the award runner up, after developing a digital sea lice counting system for salmon farmers.
Based in Norway, Fishency has pioneered technology that combines hardware and software – a fully automated swim-through 'smart funnel' which is placed in the cage, with a 360 degree camera and artificial intelligence.
It can count more than 100 fish a day rather than a typical manual sample of 20 a week.
'We want to provide a solution for more sustainable food production from the ocean,' said Gohin. 'If farmers have access to better data, they can take the right decisions for treatment or harvesting, and improve their productivity and reduce their impact on the environment and fish mortality.'
The third prize went to Observe Technologies, another digitalised solution for salmon farmers, which uses an artificial intelligence platform to optimise feeding.
Billions of dollars are wasted every year on inefficient feeding, said the company's CEO and co-founder, Hemang Rishi.
The London based company has so far trialled its technology in Chile, has partnered with Akva to distribute the system, and is currently working with a Scottish farmer to optimise it further.
'Feeding is an art…we want to make it a science,' said Rishi.
The two-day Aquaculture Innovation Europe conference is in its third year, and gives selected start-up companies an opportunity to pitch their inventions and business propositions to potential investors. A full report will appear in the October issue of Fish Farmer.