Food major Jerónimo Martins to invest in flow-through salmon farmer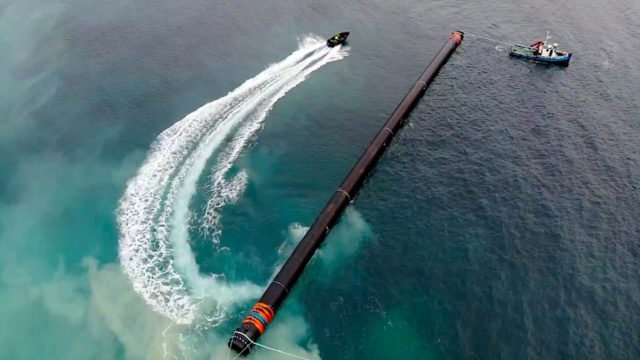 International food group Jerónimo Martins is investing NOK 173.7m (£14.28m) in Andfjord Salmon, a Norwegian fish farmer that has developed a unique flow-through technology.
Andfjord Salmon is developing a land-based farm at Kvalnes, on the on the island of Andøya on the Arctic archipelago of Vesterålen, Norway. The company's stated ambition is to build the world's most sustainable aquaculture facility of its kind.
Andfjord Salmon plans to release smolt in its first pool at Kvalnes, Andøya, in June 2022. Blasting and excavation work for the next pools (Phase 2) at Kvalnes is ongoing.
Andfjord Salmon holds a licence to produce 10,000 tonnes of salmon at Kvalnes, equivalent to a target production volume of 19,000 tonnes HOG (head on gutted weight).
Jerónimo Martins is based in Portugal, and operates an integrated, international food production and retail business. In 2021, Jerónimo Martins Group delivered revenues of €20.9bn (£150m) , with a net profit of €463m (£399m). The group had 4,908 stores and 123,458 employees at year-end 2021. Ranked by market capitalisation, the group is second highest valued company on the Lisbon stock exchange.
Its aquaculture business area operates three ocean-based fish farms – two in Portugal and one in Morocco. In 2021, it had a total production of 1,400 tonnes of sea bass and sea bream.
Under the investment deal, Andfjord Salmon will issue, and Jerónimo Martins Agro-Alimentar will subscribe for, 4,144,932 new shares in Andfjord Salmon through a directed private placement.
Pedro Soares dos Santos, Jerónimo Martins Chairman and CEO, said: "Andfjord Salmon's project is focused on using efficient technology to produce salmon – a strategic seafood product – with less impact on natural resources, therefore contributing to conserve and sustainably use the ocean, the sea and marine resources. In a challenging backdrop of both high pressure on the ocean stocks and food security, we believe that investing in this innovative and sustainable production will also work for us as a learning curve accelerator in what regards best practices in aquaculture projects."
The deal will make Jerónimo Martins one of the biggest investors in Andfjord, joining other corporate investors including feed giant Nutreco and Norwegian seafood group Holmøy.
"We are delighted to attract such a major industrial investor to Andfjord Salmon. We consider it an advantage to have an owner that possesses extensive competence about international food industry sales, marketing, logistics and distribution. Hopefully we can tap into this know-how when we are ready to bring our salmon to the market," said Martin Rasmussen, CEO of Andfjord Salmon.