Food and industry chiefs in Brexit plea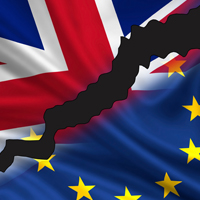 The Scottish Salmon Producers Organisation has joined with other leading bodies in the country's food and drink sector in a plea to the Prime Minister for more time to deal with the impact of Brexit.
In an open letter to Boris Johnson the industry chiefs express concern that uncertainty over Brexit is compounding pressures on the industry as a result of the Covid-19 pandemic.
The letter says: "What we do in the next 60 days is critical to the survival of many food, drink, farming, fishing and seafood businesses and the supply chain and jobs they support."
It warns that the "fallout from a no-deal would be catastrophic" and calls for a six-month grace period in which the rules that will require those selling products to Europe to produce export health certificates and other documentation would be suspended or relaxed. This would allow the industry time to prepare and adapt to the new regime.
The group said that while this "was ultimately what the transition period was meant to do" there are still a "number of unanswered questions around trading arrangements after 31 December… a six-month grace period would enable businesses to trade with the new rules but without fear of significant border disruption, enforcement action and loss of further revenue.
They spell out that "Most critically for Scotland is the need for a six-month derogation from the requirement to produce export health certificates (EHCs) and other export certification including haulage permits. To be clear, there is no system available that can cope with the increased demand in EHCs likely to be required from 1 January."
The group also call for financial compensation for producers, processors, manufacturers and distributors who encounter losses as a direct result of border or market disruption. They have also called for the UK Government to "finalise operational arrangements for enabling the smooth passage for seafood consignments across the Channel."
The letter points out that Scotland's food and drink industry is worth £15bn a year, employing 120,000 people across the country.
The letter to the PM has been signed by (among others) Tavish Scott, chief executive designate of the SSPO, Scotland Food and Drink chief executive James Withers, Food and Drink Federation Scotland chief executive David Thomson, Donna Fordyce, head of Seafood Scotland and Scott Walker, chief executive of the National Famers' Union Scotland.