Flugga Boats presents a sustainable choice for aquaculture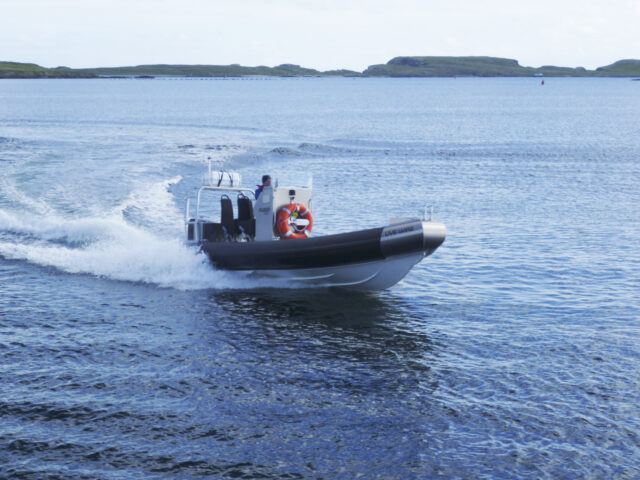 The E-Flugga is a 7.5m Fluggaboat with a difference: it is entirely electric.
The main battery is a 63 kWh lithium-ion battery housed in the console along with the charger and DC/DC control. The drive unit is built by Evoy in Norway and is remotely monitored via the Internet for software updates, commissioning, and performance.
This is a new concept for the workboat sector. As well as being all-electric with zero emissions, the construction and charging during trials was also powered by renewable energy from the company's own wind turbine.
Flugga Boats received no financial assistance and funded the project entirely by itself. The company strongly believed in the concept and knew that it was worth pursuing.
The E-Flugga was shown at Aquaculture 2022 in Aviemore.  There was significant interest, although delays in supply meant that the boat had not been trialled and so accurate or actual performance figures were not available. Despite this, the boat impressed many visitors, with one person making a purchase, and another customer from the Netherlands wanting two boats once he is ready to order.
Flugga Boats has been asked by the buyer to limit the speed to 20 knots and figures show that the boat has a range of 16 miles at this speed. Some fine tuning may improve this range further, but an added safety feature built into the battery's software is a "get home" mode of reduced power once the battery reaches a certain state of charge, similar to the warning light on a fuel gauge.
Livewire is currently going through coding before delivery to the customer.