Five countries sign Arctic agreement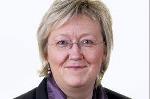 FIVE northern coastal nations have signed a deal to prohibit unregulated fishing in international areas of the Arctic Ocean.
Norway, Canada, Denmark, Russia and the United States recently signed a declaration on research cooperation and measures to outlaw illegal fishing activity.
However, there is concern in Reykjavik that Iceland has not been included in the deal.
Norway's fisheries minister Elisabeth Aspaker (pictured) said that Norway was already taking action on its own, but added that it was important that other states bordering the Arctic Ocean should be included in conservation measures.
The move is designed for the future as commercial fishing in what is described as the international zone of the Arctic Ocean is not expected any time soon.
But these five countries have said that a strict management regime should be put in place now – before it starts. They also point out that climate change will in future affect fish migration patterns.
Norwegian foreign affairs minister Børge Brende said: 'Norway and the other coastal states to the central Arctic Ocean have a particular responsibility under the law of the sea to follow developments in the central Arctic Ocean closely.
'The decision of the coastal states to cooperate on research to better understand these developments, as set out in the declaration signed today, is important.'
Meanwhile, Iceland's Ministry of Foreign Affairs is contacting ambassadors from the five countries who have signed the agreement to point out that it too is an important fishing nation with a strong interest in the Arctic Ocean.
It will also stress that it has an excellent track record in the area of fishery management and scientific research.
The declaration of the five states, signed in Oslo last week, is non-binding but Iceland believes it is important that all parties are on an equal footing.
Fisheries are of great concern for the country, which largely bases its earnings on marine resources. Iceland emphasises that its scientific knowledge and fishing experience can contribute significantly to consultations and discussions in this field.