FishUpdate Briefing Friday July 28th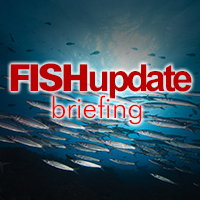 GOLDEN TIME FOR REDFISH
GOLDEN redfish, one of Iceland's lesser  known species in the UK  but popular in Germany is being found in abundance, the country's fishing fleet is reporting back. Heimir Guðbjörnsson, skipper of HB Grandi's trawler Helga Maria , said: "It has been going well and there is an unusual amount of redfish on the Hali grounds, an on all of the ridges on the Westfjords fishing grounds. This is a very good time for redfish and the fishing has been much better than I had expected." His vessel has docked in Reykjavík with a full fishroom. He  also said that cod has been scarcer than in previous times, but the good news is that saithe are starting to show up again.
US OPENS DOOR TO SEAFOOD MIGRANT WORKERS
The United States  government has cleared the way  for thousands more foreign workers to enter the country under temporary seasonal visas, with many of them going to work in the seafood sector. Many seasonal businesses such as seafood harvesters and processors and landscaping companies had applied to hire more  immigrants in spite of President Donald Trump's "America First pledge on workers. Advocates of stricter limits on immigration criticized the additional visas, saying American workers should get job openings. But Federal officials said there were not enough qualified and willing American workers available.
FISH COULD HELP SPINAL INJURY VICTIMS – STUDY
A GROUP of scientists at Edinburgh University  are hoping the  results of a study into the nervous systems of a species of small exotic fish could hold clues for  new therapies for people with paralysing spinal cord injuries. The researchers  said they have uncovered a "vital mechanism" in the damaged spines of zebrafish that helps nerve connections to regrow. Zebrafish can regain full movement within four weeks of injury.For people, damage to the spinal cord is permanent and results in paralysis. Scientists at Edinburgh University's centre for neuroregeneration said they have pinpointed "key molecules" that prompt damaged nerve fibres in zebrafish spinal cords to regenerate themselves. The finding could pave the way for doctors to restore vital connections between the brain and muscles of the body lost after spinal cord injury in humans.
FISH ATTACKS YOUNG GIRL
An 11-year-old girl in the United States is  recovering  after being attacked by a large fish at a Minnesota lake that left her with several deep lacerations on her left foot and leg. The Duluth News Tribune reports that Maren Kesselhon was dangling her legs from her family's standup paddleboard at Island Lake, about 20 miles outside of Duluth, when something grabbed her foot. Maren told her father she thought it was a fish although no-one is sure what type it was. The girl has since undergone surgery to repair tendons.