FishUpdate Briefing Friday July 17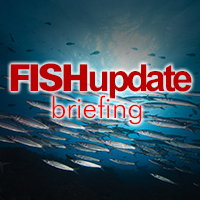 GOODBYE DINOSAURS – HELLO FISH!
FISH increased rapidly after the disappearance of the mass extinction of the dinosaur, researchers at the Scripps Institution of Oceanography in California have found. The change, say the scientists, was the start of a new age for fish which led to the huge variety of species we have today. They have not been able to pin down an exact timetable, but say the change happened between 75 and 45 million years ago. The group that made most of the new opportunity were ray-finned fish.
HULL TO GET GIANT FISH RESTAURANT
WHAT is claimed to be the world's largest fish and chip restaurant ( in terms of floor space but  not seating)  is about to open in Hull, once one of the world's largest fishing ports. The Papas Fish and Chip chain has chosen the city's smart suburb of Willerby as its first Humber location. It will be able to seat 280 people and sell seafood of all kinds, but traditional British style fish and chips will be the main fare. Papas first opened in the seaside town of Margate, Kent in 1966 and now has  several  outlets across the country and has won many awards over the years.
BRIDLINGTON SEAFOOD FEST MAY BECOME ANNUAL EVENT
AFTER a successful trial run last weekend, the organisers of Bridlington Seafood Festival are hoping to make it an annual event. An estimated  8,000 visitors turned up for the coastal show. But Bridlington is more than a seaside town – it is home to the largest shellfish operation in the UK and its noted for the quality of its crabs and lobster. Shellfish worth tens of millions of pounds are exported to Europe, especially France and Spain, each year. The festival was also an opportunity to showcase  its thriving fishing industry.
AWARD FOR GRIMSBY FISHING MUSEUM
 THE Grimsby Fishing Heritage Centre, which traces the rise and fall of the town's deep sea fishing industry, has just won its  third TripAdvisor Certificate of Excellence, in recognition of its consistently positive reviews. The Quality Rose Marque makes it clear to visitors that the centre is a quality assured attraction and has been awarded this status through the VisitEngland Visitor Attraction Quality Scheme.
An experienced mystery shopper tests everything a real visitor might expect to find. Facebook, leaflets, websites, promotional material, price checks and wheelchair access – every aspect of a visit is tried and tested by VisitEngland. The unannounced assessor interacts with members of staff so their experience is exactly the same as a regular member of the public