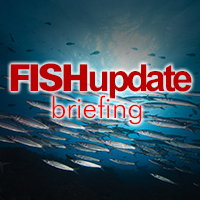 IRAN POISED TO FILL RUSSIAN SEAFOOD GAP
IRAN has signalled it is ready to sell fish to Russia following the ban from the EU and the United States.
Quality seafood has been in short supply in Moscow supermarkets since the trade war with the West, which has also seen the Russians declare a tit-for-tat ban on Norwegian and European fish imports.
Now more than ten large Iranian companies have said they are willing to discuss exporting fish to Russia.
Iran is a major producer of shrimp and that is expected to be high on the Russian shopping list.
NORWEGIAN COMPANY SELLS TRAWLER FOR £4M
THE Norwegian fishing company, Havfisk, has said it is selling one of its trawlers, the Rypefjord to a foreign company for around 41 million kroners (just over £4-million sterling) to an overseas company.
Havfisk said the vessel will be delivered before the end of the year. Havfisk currently has a fleet of ten trawlers and is planning to build new vessels.
The company employs 382 people and has an annual turnover of NOK 779 million.
ISLE OF MAN MOVES TO PROTECT SCALLOP FISHERY
THE Isle of Man has moved to protect its fish stocks and its valuable scallop fishery in particular.
A special science steering group has been established to work with the Manx government and the island's fishermen.
A Government official told the BBC that the scallop grounds would be closely monitored after research showed a 50 per cent reduction in reserves.
The steering group would aim to balance the needs of the fishermen with efforts to replenish stocks.
The Isle of Man has a 12-mile fishing limit, but its fishery has been under pressure from vessels outside the island over many years.
GIANT GROPER GIVES AUSSIE FISHERMEN A FRIGHT
A PAIR of Australian fishermen suffered quite a fright at the weekend when a huge Queensland Groper fish attacked their vessel in the Northern Territory.
The giant fish rammed the boat before swimming away. But one of the crew still had the presence of mind to film the attack.
Brad Hinks, who originally thought the attacker was a crocodile, said the groper was at least two metres (almost seven foot) long. He described the incident as 'pretty scary'.