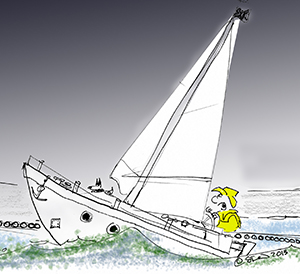 RICK STEIN CHOOSES CATHEDRAL CITY FOR NEW RESTAURANT
THE celebrated seafood chef, Rick Stein, is venturing outside Cornwall for the first time with his latest restaurant venture.
Simply called 'Rick Stein', it will be in the Hampshire cathedral town of Winchester and Stein says it will also be about classic fresh fish dishes, simply cooked.
He said he chose Winchester – one of the wealthiest towns in the south of England – because it was steeped in heritage.
The man who regularly features seafood recipes on television added: 'I can't wait to bring my passion for seafood to Winchester.'
NORWAY SEAFOOD COURTS THE YOUNG
MORE than 1,000 young people attended a youth muster in the Norwegian town of Alesund this week to receive briefing on the country's seafood industry.
The event was coloured by music and art shows as well as talks on Norway's fishing fleet and seafood industry. The hope is that more young Norwegians will look to fishing and seafood as a career.
The industry is worried that too many young people are moving away from traditional fishing towns to Oslo for careers away from the industry.
FISH SMELL THEIR WAY TO COMFY HOME
A NEW study has found that fish and baby corals can smell their way to good places to make a home.
The study was carried out in the Pacific, and when offered a choice of two water samples in the lab, the fish turned away from the stench of seaweed that invades depleted reefs, but were drawn to the smell of healthy coral.
According to reports it is the first time that corals have been shown to react over long distances to chemical 'smells' in the water. The findings suggest that controlling seaweed is key to repopulating reefs.
Once a coral reef has decayed and seaweed takes over, stopping fishing in the area may not be enough to bring the coral back.
Danielle Dixson from the Georgia Institute of Technology, said: 'If you're setting up a marine protected area to seed recruitment into a degraded habitat, that recruitment may not happen if young fish and coral are not recognising the degraded area as habitat.'
INDIA SEAFOOD EYES RUSSIAN MARKET
THE Indian seafood sector has predicted that the Russian ban on fish and other marine products from the West will create new opportunities for its own producers.
The Russians are now contacting important Indian seafood exporters to help fill part of the gap which is being left by the embargo.
The Indo-Russian consulting firms have come forward to support the companies and producers who want to step up seafood exports to Russia. 
The Hindu newspaper says that according to the Marine Products Export Development Authority (MPEDA) authorities, India is exporting 7,400 tonnes seafood including shrimp and other fish varieties to Russia a year. 
But it now expects a marked increase in those figures now that western shipments are excluded.