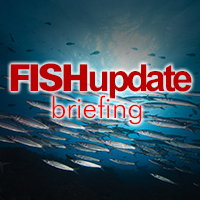 BODIES FOUND IN ILLEGAL FISHING BOAT
IN a grim discovery, Australia's ABC News has reported that three bodies have been found in the freezer of an illegal fishing boat in a remote part of Papua New Guinea.
The dead appear to be Asian, and their bodies were packed in amongst a catch of tuna. The report says that police have begun an investigation into the discovery, which has only just come to light because the place where they were found is so remote.
Bougainville disaster co-ordinator, Frank Lacey, is heading the investigation team, and he said the remaining crew members tried unsuccessfully to destroy the boat before fleeing to a mothership. Illegal tuna fishing is common in the area.

2,700 PEOPLE AN HOUR HIT FISH MARKET
SUCH was the rush for seafood over the festive period that Sydney Fish Market attracted 100,000 visitors in a 36 hour period. Christmas Eve was by far the busiest day.
General manager of Nicholas Seafood, Angelo Vaxevani, described the 36-hour trading period as 'hectic… They go nuts over seafood', he said.
David Billing, who brought his family many miles to stock up on oysters, prawns and salmon, said:
'Living away from the city, you miss the fresh seafood.' Sydney sold over 120 tonnes of prawns and at least 800,000 oysters in just over a day.

FISH FIRST TO DEVELOP EYES
NEW evidence has come to light that fish were the first to develop eyes as they are now commonly conceived – at least 300 million years ago and possibly almost twice as long ago as that.
A fossilised fish eye from a member of the spiny shark family suggests that coloured vision first emerged that far back.
The fossil was found in Kansas and the results of the study have been published in the journal Nature Communications, which says that vision consisting of an optical system, receptors and an image processing capacity may have existed for up to 520 million years.
The extinct fish had a long streamlined body and fins with spines. It existed long before the dinosaurs and is believed to have lived in shallow water.

SPANISH TRAWLER FUELS GIBRALTAR TENSIONS
TENSION between Gibraltar and Spain flared up again recently when a Spanish trawler refused to move his vessel to allow a charity swim to take place in what are now becoming disputed territorial waters.
The Gibraltarian swimmers were about to take to the water when a number of vessels began to trawl the seabed for shellfish.
When police ordered the Spanish fishing crews to move on for safety reasons, one captain initially refused and a Spanish guardia civil patrol boat arrived at the scene – leading to a one-hour standoff.
Now action is to be taken against the skipper. The government in Madrid has described the move as hostile.