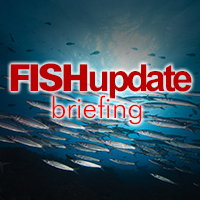 TOKYO FISH MARKET TO MAKE WAY FOR OLYMPICS
THE Tsukiji fish market in central Tokyo – the world's largest seafood trading centre – is to move to a new location in two years' time.
The transfer, after more than 80 years, will cost about 431 billion yen (£2.5 billion sterling).
The market, owned by the Tokyo city government, handles hundreds of varieties of seafood, from sea urchin to caviar to baby sardines, all weighing some 700,000 metric tonnes a year, said Forbes.com
The current site will then be redeveloped for the 2020 Olympics, which the city is hosting. The new market will be located just under two miles from its present location.

NEW BEDFORD RICHEST US FISHING PORT
WHEN it comes to value, the Massachusetts fishing port of New Bedford has again come top of the US league, and Dutch Harbor in Alaska heads the list for volume.
The value of fish landed in New Bedford in 2013 was $379-million, boosted by its high-value scallops. The volume figure was 130-million pounds (lbs).
Dutch Harbour landed several times more fish – 753-million lbs – mainly Pollock, but the value was $197-million.
'It's no surprise that it's the highly valued sea scallop fishery again,' said NOAA Fisheries chief scientist, Richard Merrick.

ICELAND LANDINGS DOWN IN SEPTEMBER
THE total fish catch for Icelandic vessels during September this year fell by just over 14 per cent to 99,000 tonnes.
At constant price, the September catch was 20.6 per cent lower than in the same month 2013 and the fixed price rate between October 2013 and September 2014 is 8.9 per cent lower than for the same time period one year earlier.
The total catch for the 12-month period from October 2013 to September this year fell by 22 per cent to 1,379,269 tonnes.

LOWER YEN FIRES JAPANESE FISH EXPORTS
A LOWER value Yen is helping to push up Japanese exports.
The Japan Times reports that increased demand from other Asian countries and from the Middle East has led to higher demand for Japanese scallops and the best cuts of tuna.
Seafood sales now account for 40 per cent of all Japanese foods exports, which totalled 436 billion Yen in 2013.
Sales of Japanese farmed fish to the US are also on the increase. The Japanese government has recently signalled a lower Yen to help boost growth which has remained stagnant for years.