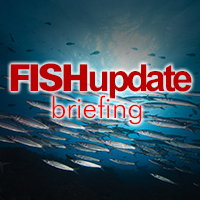 COD THE STAR OF NEW NORWAY BANKNOTE
A COD is to be the face on the new Norwegian 200 kroner note (roughly equivalent to a £20 sterling note).
The fish is set on a sea blue background and has been described by the Governor of the Bank of Norway Mr Øystein Olsen as the country's business card.
The fish was chosen following a competition among a group of eight design companies and it will come into circulation from 2017 onwards.
Governor Olsen said: 'The theme is both original and unique to Norway. Norway is a small country, but an important coastal nation.
'Utilisation of marine resources and the use of the sea as a transport, has been a prerequisite for the development of economy and society in our country."

ICELAND CATCH DOWN IN 2013
THE total catch by Icelandic fishing vessels of all types last year was 1,363,000 tonnes – down by 86,000 tonnes on the 2012 figure.
The value of the catch totalled 153 billion Icelandic kroners (ISK), a fall of 4.1 per cent on the previous year, but a 2.2 per cent increase at constant prices.
The largest part of the catch, mainly pelagic fish, was processed in Iceland, in the eastern part of the country, but the highest regional share of the demersal catch (cod, haddock etc) was processed around the capital Reykjavik.
Europe remains the most popular destination for Icelandic fish, amounting to 80 per cent of the marine products export trade.

BIRTH PILL THREAT TO FISH STOCKS!
A CALL has gone to clean up some of Canada's waste water treatment plants after it was found that residues from the birth control are killing some of the country's large inland fish stocks.
The study, which is being published in Philosophical Transactions of the Royal Society, found that introducing small amounts of oestrogen, a key ingredient of the pill, into a lake led to the near extinction of the fathead minnow because it interfered with the fish's ability to reproduce.
Lead researcher, Karen Kidd, of the University of New Brunswick, said the study has been ongoing since the late 1990s, when researchers in the United Kingdom discovered that male fish began to develop eggs when oestrogen was introduced in their habitat.

FISH STICK REVIVED
GORTONS Seafood, which claims to have invented the iconic fish stick (called fish finger in Britain) over 60 years ago, is reviving the popularity of this mealtime favourite in the United States.
Gorton's all new Smart & Crunchy Fish Sticks, now made from wild caught pollock, are hitting shelves across the country and are expected to be available nationally by early next year.
The sticks are said to have 50 per cent less fat than Gorton's regular Fish Sticks and are 180 calories per serving. Established in 1849, Gortons is one of America's oldest seafood businesses.