Fishermen told to switch to aquaculture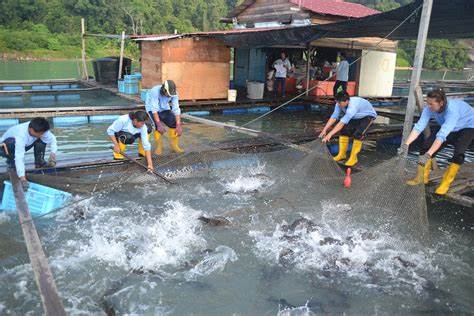 FISHERMEN in Malaysia are being urged by their government to take up fish farming to protect their future and save depleting wild fish stocks at the same time.
The call came from the country's deputy agriculture and agro-based industry minister, Sim Tze Tzin, at the opening of the 2019 World Seafood Congress in Georgetown, capital of the Malaysian state of Penang.
He told a large international audience at the three-day event, being held in Asia for the first time, that aquaculture in a country with a huge appetite for seafood could do much to help prevent over-fishing in the long term.
He said that Malaysia's aquaculture industry was highly profitable, producing 427,022 tonnes of seafood, worth more than £580 million a year. The country was now the world's 15th largest producer of farmed seafood.
But conventional fishing, at almost 1.5 million tonnes a year, was putting huge pressure on wild stocks which, were now depleting at a worrying rate.
He said: 'The sustainable thing to do is to move away from captured fisheries towards aquaculture.'
Minister Sim outlined how the state governments could help by giving fishermen temporary occupation licences to kick start their aquaculture projects.
'Moving forward, we need to have more aquaculture activities. Malaysia is in the capture fisheries sector, but the fish resources are declining at an alarming stage.
'That is why we need to have conservation, we have to implement certain policies to ensure we are not over-fishing. Eventually, we will have to move on to aquaculture.'
In Malaysia, the aquaculture industry includes both freshwater and sea farmed seafood, with prawns making up a large part of the production.
Penang state is one of the active aquaculture areas, worth around £300 million a year and accounting for more than half the country's total output of £580 million. Its main species are marine finfish, including sea bass, grouper and snapper.
Minister Sim was supported by Penang chief minister Chow Kon Yeow, who said aquaculture should be seen as an industry that was developing in tandem with advanced management systems and technology applications.
'With aquaculture, we can control the environment and help create a balance between supply and demand,' he added.