Fish Update Briefing, Thursday, March 29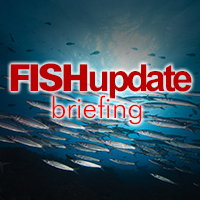 SEAFOOD CONTEST ENTRIES OPEN
THE search for the next generation of top culinary talent is on – as the 2018 UK Young Seafood Chef of the Year competition is now open for entries. Catering colleges from across the country have until Thursday, April 12 to enter their best young chefs for the competition, which culminates in a grand final at Grimsby Institute in June. The seafood contest is the only one of its kind open to full-time, college based, modern apprentice chefs across the UK, who are under the age of 25. Grimsby Institute, which organises the contest alongside Seafish, is encouraging young chefs to enter in teams of two, to be in with a chance of netting a number of attractive prizes.  All entries should be submitted, by April 12, to: Paul Robinson, UK Young Seafood Chef of the Year, Competition Co-ordinator, Hospitality, The Grimsby Institute, Grimsby DN34 5BQ. The final will be held on June 15.
BRITAIN LAUNCHES NEW BREXIT FISHERY GUNBOAT
THE Royal Navy has taken delivery of the first of five new vessels which are designed to protect UK fish stocks after Brexit. HMS Forth is the first of the state-of-the-art vessels. Its other tasks will include counter piracy, anti-smuggling, border patrol, counter terrorism and maritime defence duties. Defence Secretary Gavin Williamson said: 'The Royal Navy has a proud tradition of protecting the UK's coastline and keeping a close eye on our fishing waters.' He added that the introduction to the fleet of HMS Forth showed Britain was ready for its future as a newly independent coastal nation.
IRISH FISHING PORT ON THE RISE
KILLYBEGS in Donegal has been identified as Ireland's top earning fishing port last year. According to the annual Business of Seafood report published by Bord Iascaigh Mhara (BIM) it landed 192,000 tonnes of fish worth €125 million. The report also highlighted strong employment growth in the Donegal seafood industry, with a total fishing related workforce, both direct and indirect, of 3,318 individuals, or 12 per cent of the coastal population.  Furthermore, 26 of Ireland's 163 seafood processing companies are located in Donegal.
ALASKA HALIBUT HARVEST UNDERWAY
THE annual Alaska halibut and sablefish (black cod) harvest season got underway last weekend, bringing world renowned fish from the region to restaurants and retailers across the United States. Jeremy Woodrow, from the Alaska Seafood Marketing Institute, said these two species offered exceptional quality and unparalleled flavour. Alaska, he added, has been practising science based fishery management for decades and is the only US state with sustainability written into its constitution.