Fish Update Briefing, November 17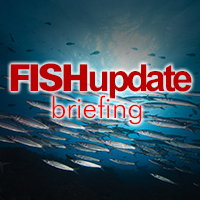 RESTAURANTS TO DECLARE SEAFOOD ORIGIN
RESTAURANTS selling seafood in Western Australia could soon be forced to display country-of-origin labelling so diners know what they're eating and where it comes from, under a proposal to boost the local industry. About 70 per cent of seafood served in restaurants, cafes, take-away outlets and fish and chip shops is imported, mostly from Asia but, unlike supermarkets, eateries don't need to tell customers where their seafood comes from. That could be about to change, with Fisheries Minister Dave Kelly confirming he was meeting stakeholders to devise a practical system for country-of-origin seafood labelling. He said: 'The Western Australia  fishing industry generates thousands of jobs across the state and we believe the introduction of country-of-origin labelling will not only give consumers more choice, but will also grow local jobs.'
 
 €526 SEAFOOD LUNCH BILL ANGERS TOURIST
A BRITISH tourist has complained to the mayor of Venice after being presented with a €500 plus bill for a seafood lunch while visiting the city. The order for Birmingham university lecturer Luke Tang and his family included oysters, spaghetti with squid ink and grilled fish at a restaurant near St Mark's Square. He received a shock when the waiter presented him with a bill for  €526. He has told Mayor Luigi Brugnaro that such behaviour will ruin the reputation of Venice. However, the restaurant, the Trattoria Casanova, has responded  by saying the price of each item was clearly marked on the menu and the party were given exactly what they ordered.
COSMETICS 'HARMING FISH'
NORWEGIAN researchers have warned that certain types of cosmetics such as skin lotions, shampoo and deodorants are harmful to fish. The finger is pointed at products which contain siloxanes, a chemical fabric that gives a silky soft feel to the body and easily evaporates. They carried out tests in waters near the port of Hammerfest. Ingjerd Sunde Krogseth, a researcher from the Norwegian Institute for Aeronautics, said: 'We are finding find quite large concentrations. We humans can break it down in our bodies and breathe, but for fish it is not so easy because they do not breathe in the same way as we do.' The researchers say it may also be harmful to human reproductive organs and fertility.
NEW TRAWLER COMPLETES SUCCESSFUL TRIALS
HB Grandi's new trawler, the Viðey, has successfully completed trials following its launch from the builders yard in Turkey. The main systems on board were tested, and performed as required under these circumstances, said the Icelandic company. Viðey is a sister vessel to fresher trawlers Engey and Akurey that were also built at the Celiktrans yard in Turkey. Taking part in the sea trials were Skipper Jóhannes Eiríksson, who is due to take over the new vessel, fresher trawler fleet manager Birkir Hrannar Hjálmarsson and marine superintendent Thórarinn Sigurbjörnsson, who has monitored the construction of the new vessels on the company's behalf. If everything goes according to plan, Viðey  will leave for its home port in Reykjavik in early  December.