Fish Update briefing January 30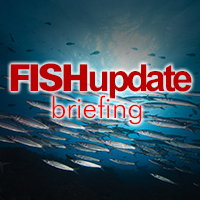 Norway's 2.3 million ton 'fish dish'
NORWEGIAN vessels fished some 2.3 million tons of fish last year. The Norwegian Directorate of Fisheries has calculated that if the entire catch was consumed solely by Norway's 5.1 million people each citizen would have eaten a gargantuan 450 kilogrammes – so it is just as well that most of the fish is exported.
Norway now has 6,000 registered fishing vessels of all sizes, employing 11,300 fishermen. The latest official figures from the United Nations FAO also show that Norway was the world's 11th largest fishing nation in 2012.

Jellyfish know where they're going
JELLYFISH, once thought to have little sense of direction, can 'feel' ocean currents and swim against them, researchers from Swansea University and Deaking University in Australia have discovered.
The scientists tagged a number of jellyfish and fitted them with special devices to measure speed of travel and body orientation.
This showed that the jellyfish were able actively to swim against the current, apparently in response to feeling themselves drift.

Hundreds attend Hull lost fishermen's service
HUNDREDS of people turned out in Hull to remember the city's 6,000 trawlermen lost at sea over the past 100 years.
The Lost Fishermen's Day service has now become a major annual event and is attended by the families of those who perished while on fishing operations.
This year they particularly remembered the 40 men who died on the trawlers Lorella and Roderigo when they capsized in terrible weather conditions off Iceland 60 years ago.
Commander David Dickens from the Fishermen's Mission delivered an address. The service is organised by the Hull fishing charity STAND.

Quick action saves Icelandic fisherman
TWO Icelandic fishermen have been praised for saving the life of a shipmate who suffered a potentially fatal heart attack while at sea.
Bjorn Sigmundsson and Vioir Larusson, on board the freezer trawler Orfirisay RE (owned by HB Grandi), used an on board defibrillator when chief mate Christian Vioir Kristjansson collapsed after a long night shift.
The men knew exactly what medical action to take when their shipmate had a cardiac arrest and he survived the ordeal.