Fish Update Briefing, Friday, September 8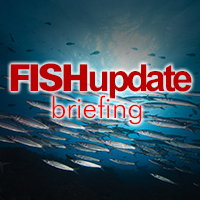 HURRICANE HITS GULF FISH TRADE
HURRICANE Harvey, which devastated much of eastern Texas, has also had a major impact on the region's fishing and seafood sector. Both fishermen and fish farms are struggling to get back to normal business due to supply lines being cut off. Distribution networks out of cities such as Galveston have been particularly badly affected. Those seafood restaurants that have been able to remain open have been unable to get any fish from the Gulf of Mexico, while supplies from outside the affected areas have been unable to get in, news media in the Lone Star state are reporting. The worry is that some seafood restaurants may be forced to close if the disruption goes on for too long.
RESTAURANT OFFERS FREE FISH TO KIDS
AN Irish restaurant is serving up free fish to children this month. Michael's Restaurant in the Mount Merrion district of Dublin hopes the move will persuade youngsters to acquire a liking for seafood. The owner, Gareth Smith, who is also the head chef, said he had noticed that children often turn up their noses at the idea of eating fish, even though some of them have never tried it. But when they do sample what's on offer they usually enjoy it and ask for more. On the first weekend of the promotion, the restaurant served up more than 20 free meals.
VIETNAM REPORTS RISE IN CATCHES
VIETNAM has reported that its total of wild caught fish during the first eight months of this year rose by 3.4 per cent year on year to 2.3 million tonnes. The country's Ministry of Agriculture and Rural Development has attributed the increases to the favourable weather conditions and localities' support to fishermen. Over the same period the total tuna catch was estimated at 14,901 tonnes, up 10.6 per cent year on year.
200 MILLION-YEAR-OLD FISH FOETUS FOUND
THE foetus of a 200 million-year-old fish-like creature known as an Ichthyosaurus has been discovered inside the womb of its mother. The 3.5m long pregnant ichthyosaur lived at the time of the earliest dinosaurs, during the early Jurassic period. Scientists said the incomplete embryo was less than seven centimetres long and consisted of preserved vertebrae, a forefin, ribs and a few other bones. There was evidence that the foetus was still developing in the womb when it died. It was discovered almost 20 years ago on the Somerset coast, but had somehow ended up in a museum in the German city of Hanover.