Fish Update Briefing Friday September 4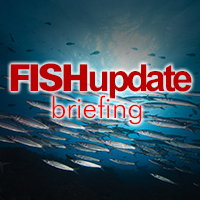 THOUSANDS HEAD TO NEW ORLEANS FOR FISH FEST
NEW Orleans is expecting a big influx of visitors this weekend thanks to the Louisiana Seafood Festival in the city park's festival grounds. The Louisiana Seafood Festival, which starts today, will feature 25 food vendors selling dozens of different seafood dishes, including alligator, fish, crab, shrimp and oysters. The festival also coincides with the Southern 'Decadence' Festival and together the two events are expected to draw around 180.000 people.

PRESIDENT OBAMA'S FISHY ENCOUNTER
PRESIDENT Obama got more than he bargained for when he visited the Alaskan fishing village of Dillingham this week. He was being given a lesson in how to catch salmon using a traditional net when one of the fish suddenly relieved itself over his shoes. He asked: 'What happened there?' The President then laughed the incident off when one of the women told him the salmon was spawning. During the visit President Obama discussed environmental issues facing the fishing industry in Alaska, along with watching local cultural activities.
CARRIED AWAY IN A PORTALOO
A WOMAN using a portable toilet at an English seaside fish festival was inadvertently carried across a festival site by a forklift truck. She had apparently gone to use the toilet ahead of the opening of the Newlyn Fish Festival in Cornwall when it was picked up and carried to the other side of the harbour. The harbour master Rob Parsons said she must have 'thought she had been teleported' when she came out of the toilet in a new location.  The organisers said the woman was a little shocked but not hurt by the incident.
FISHERMAN FILMS DEADLY ENCOUNTER
An Australian spear fisherman has managed to capture on camera a death duel between one of the world's most venomous fish and a deadly snake. The incident happened off the coast near Darwin when Rick Trippe spotted the sea snake latching on to a stonefish off. He took photos of the encounter which went out worldwide. Trippe told the BBC he had been diving on a World War Two wreck in Darwin Harbour when he made the unusual find. He said he drew on his experience of fishing pythons out of his chicken coop when he bravely pulled the wrestling creatures from the water, clutching the snake under its mouth. 'I'm silly but not mad. I knew this was dangerous. I knew if I grabbed it I wouldn't get the bitten,' Trippe said.