Fish Update Briefing Friday September 30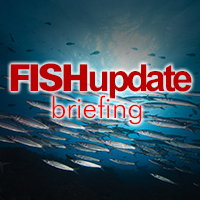 'GUESS THE FISH' GAME FOR SEAFOOD WEEK
YOUNG'S is planning to support Seafood Week (October 7-14) with a Guess the Fish in the Dish online game, which asks players which type of fish is being used in various recipes. The seafood specialists at Young's are also planning a digital, consumer PR and blogger engagement campaign, along with a number of other activities. Yvonne Adam, marketing director of Young's Seafood, said: 'Our mission is to inspire people to love fish now and for generations to come. Seafood Week is an excellent opportunity to do just that by highlighting the wide variety of delicious recipes and species there are to enjoy.'

COD NOT PLAYING FAIR!
COD are proving a little elusive in certain Iceland fishing grounds at the moment. HB Grandi's trawler Helga María docked in Reykjavík a few days ago after a five-day trip to the Westfjords. The catch was 140 tonnes, of which around half was cod. Despite this, skipper Ævar Pálsson said that they had to work for their cod off the Westfjords as the fish are not there at the moment in heavy concentrations. 'There seems to be plenty of redfish, both on the Mountains here in the south and around the Víkuráll Gully, and this time that's where we started on redfish. The saithe are there but they're difficult to pin down. Cod have also been less easy to find so far during this new quota year but, as I said, there's plenty of redfish.'

MACKEREL QUOTAS RAISED
ICES, the International Council for the Exploration of the Seas, has recommended a 16 per cent increase in northern hemisphere mackerel catches for this year – up from 667,385 tonnes to 773,842 tonnes. The reason for the change is that scientists have discovered an error in earlier calculations which set mackerel recruitment lower than it should be. EU countries have a 58 per cent share of this quota while Norway has just over 26 per cent. But it is unlike that any of the countries involved will increase their allowable catch rates due to revised advice for allowable catches. They could rise next year, however.