Fish Update Briefing Friday September 11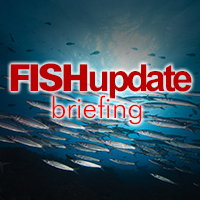 US FISH PROTECTION PIONEER DIES AT 68
'You would probably not be eating a wild California salmon today if it were not for Zeke. He was not afraid of speaking the truth to those in power. He wasn't afraid of anyone.'
Zeke Grader  was an executive director of the federation, the largest commercial fishing trade group, for almost 40 years. He had engaged in many battles in his fight to protect fish.
NZ COMPANY NETS SEAFOOD INNOVATION AWARD
THE  new 'Precision Seafood Harvesting' fishing technology being developed in New Zealand has been named as a finalist in Seaweb's Champion Awards at Seafood Expo Asia in Hong Kong.
The Seafood Champion Awards annually recognise individuals and companies for outstanding leadership in promoting environmentally responsible seafood.
Precision Seafood was a finalist in the Innovation category, which recognises efforts in advancing sustainability within the global seafood sector to effectively design products and processes with sustainability as a driving force.
The revolutionary fishing technology does away with traditional trawl nets to allow fish to be landed on boats alive and in perfect condition, while safely releasing undersized fish.
The design of the harvesting system allows fishing vessels to target specific species and fish sizes and greatly increases protection for small fish that can swim free through 'escape portals' unharmed.
EX-GRIMSBY TRAWLERMEN REMEMBER LOST SHIPMATES
ALMOST 200 former Grimsby deep sea trawlermen attended a mass reunion in the town to honour the hundreds of fishermen lost at sea over the past 100 years.
It is estimated that around 5,000 deep sea fishermen perished, particularly during the two world wars. Hundreds died from enemy action in one weekend during the First World War alone,  while many others were the victims of bad weather and ice.
Tony Jewitt, the Fishermen's Mission superintendent in Grimsby, described it as the most dangerous job in the country.
The re-union was also a chance for shipmates to exchange old memories.

FISH FACTORY CREATES A STINK
RESIDENTS in an area of east London have been holding their noses following a fire at a nearby fish factory. For the past few months they've had to cope with the distinctly unpleasant  smell of rotting fish after a fire at Shapla Frozen Foods.
But then the smell started attracting flies and neighbours aren't happy.
Kay Knight, 71, who lives 200 yards from the building,  told the Metro newspaper: 'We just can't go outside to enjoy the sun  since all of this has happened.
'We tried to have a barbecue, but we were covered in flies. It's just been horrible.'
The director of Shapla, Rachid Salim, has so far made no comment.