Fish Update Briefing Friday October 9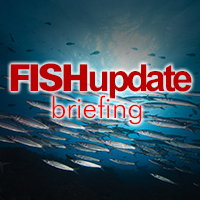 ANGER AS DINER ASKED TO PAY FOR EACH PRAWN
A customer left a seafood restaurant in the city of Qingdao in China with a bad taste in his mouth after claiming he was overcharged for prawns.
The man ordered a dish of prawns that appeared to be marked at 38 yuan (around £4) on the menu, Chinese media are reporting.
But he was later told the menu had specified the price was for each prawn, and faced a total bill of £275. The restaurant has attracted intense criticism on Chinese social media.
The customer, identified as Mr Zhu, was a Nanjing native on holiday in Qingdao with his family.  They visited the Shande Live Seafood and Barbecued Home-Cooked Dishes restaurant for dinner.
Zhu refused to pay, and said the restaurant owner pulled out a stick and threatened to beat him up. The police were called, and after negotiations Zhu paid up 2,000 yuan. The restaurant owner, who is facing massive criticism in China, says his prawns are all freshly caught and the prices are listed as per item.
TOO MUCH FISH WASTED, SAY U.S RESEARCHERS
ALMOST half of the edible US seafood supply is lost each year, mainly from consumer waste, new research from the John Hopkins Centre for a Liveable Future in Baltimore maintains.
The findings are published in the new issue of Global Environmental Change and suggest that the issue raises further concerns about the sustainability of the world's seafood resources.
With Americans and others being urged to eat more fish for the sake of their health, the research says that the use of fish for purposes other than human consumption threatens the global seafood supply.
Study leader David Love, who is with the Public Health and Sustainable Aquaculture at the centre, said it is vital that the level of waste is reduced.
NORDIC MACKEREL STOCKS 'ON THE RISE'
MACKEREL stocks in the Nordic seas are on the increase, according to the latest findings from Iceland. A summer survey shows that Iceland has 2.8 million tonnes, with two million tonnes in the Norwegian zone and 800,000 tons in Faroese waters.
Iceland says that stocks are now at their highest since these surveys began in 2007.
However, there is also a note of caution. The estimated biomass of 7.7 million tonnes is 1.3 million tonnes lower than last summer.
The international ecosystem summer survey in the Nordic Seas (IESSNS) was performed from July 1 to August 10, 2015, on four vessels from Norway, Iceland and the Faroes.
A standardised pelagic trawl swept area method was used to obtain abundance indices and study the spatial distribution of Northern Atlantic mackerel in relation to other pelagic fish stocks, ecological and environmental factors in the Nordic Seas as in recent years.
HIGH LEVELS OF PLASTIC FOUND IN FISH
FISH caught in many parts of the world, and particularly off the coasts of California and Indonesia, and sold in local markets have been found to have unacceptably high amounts of plastic material and textile fibres.
Chelsea Rochman, at the University of California Davis School of Veterinary Medicine, and her team visited a fish market in Half Moon Bay and Princeton in California and in Makassar, Indonesia.
In California they sampled 76 fish from 12 species and one shellfish species, and in Indonesia 76 fish from 11 species. All had been caught nearby. The fish were dissected and their guts treated chemically to dissolve body tissue to reveal high levels of plastic and fibre debris.