Fish Update Briefing, Friday, October 6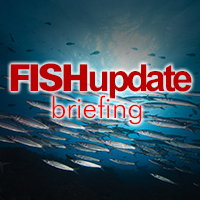 SEAFOOD WEEK KICKS OFF IN UK
TODAY sees the beginning of national Seafood Week in the UK (October 6–13), an eight-day campaign, spearheaded by Seafish and designed to encourage people to buy, cook and taste seafood more often. Research has shown that 72 per cent of UK adults are not aware of the recommendation to eat two portions of fish per week, one of them oily. This, coupled with many misconceptions around cost, variety and ease of cooking, may be stopping people from enjoying our sea's fine produce, said Seafish. Seafood Week will feature festivities planned up and down the country, with some of the country's top hotels, restaurants and pub chains committing to put seafood on the menu this week.
NORTH KOREANS 'PREPARING US SEAFOOD'
WESTERN consumers could be buying seafood processed and prepared by North Korean workers, an investigation by Associated Press has established. Thousands of people have been sent overseas to earn money for the rogue state, funds which are then used to finance its missile and nuclear weapons programme. AP says many are working in China, where they are strictly controlled and are paid just a tiny proportion of their wages with the rest being sent to the North Korean government. China is a major exporter of seafood products to the United States, Canada and Europe, including the UK. Now US politicians are demanding that China turns away North Korean workers.
VIETNAM MAY SUE USA OVER EXPORT RESTRICTIONS
VIETNAM has warned it may sue the United States at the World Trade Organisation if the stringent new US Farm Bill unfairly discriminates against exports of its catfish, said to be worth tens of millions of dollars.  Vietnamese exporters say they will intensify lobbying of US officials and partners to show that the catfish monitoring programme is expensive, unnecessary and should be abolished. US catfish breeders have repeatedly called for action to be taken against fish from Vietnam.
ICELAND SELLS FREEZER TRAWLER TO RUSSIA
THE Icelandic fishing group Samherji has sold one of its freezer trawlers, the Kristina EA, to Russia – just days after completing its final trip for the company. The 7,000 tonne vessel was built in Spain in 1994 and sold to another Icelandic company, HB Grandi, 11 years later when it became the largest fishing boat in the country's fleet. Ownership was passed to Samherji in March 2007. On its final trip, the Kristina EA landed 2,180 tonnes of frozen mackerel.