Fish Update Briefing, Friday, October 26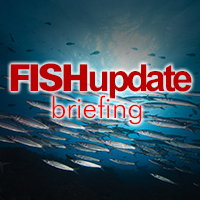 CHINESE-FAROESE DICTIONARY TO BOOST SEAFOOD SALES
THE first edition of a Chinese-Faroese dictionary will be published next year to help business communications, largely seafood related, between the two countries. Both farmed salmon and conventionally caught fish are the islands' largest export commodities, and although Danish is widely used in the Faroes, most business deals are currently conducted in English. Jóhanna Magnusardóttir, who is studying Chinese, is one of three people working on the new dictionary. The others are Chinese native Kimberly Joy, who is studying to become a teacher in the Faroe Islands, and Faroe Islander David Fossdalsá. The dictionary, which will be published by the Faroese publishing house Sprotin, is also designed to help preserve the islands' native language, which is still spoken in many homes.
HIGHER SALES AND PROFITS FOR SCAMPI PRODUCER
THE scampi producer Whitby Seafoods saw its turnover rise by almost £3 million last year. The company's annual accounts, just released, show sales of £53.2 million for 2017 compared with £50.3 million the previous year. The operating profit was £2.25 million against around £2 million in 2016. Profits after tax came out at £1.65 million compared with £1.17 million a year earlier. Based in the town of its name, the family owned company is best known for its branded scampi range, but also produces other products such as breaded fish goujons. And it has a growing food service business.
MOVE TO SELL MORE MACKEREL
NORWAY'S Sildesalgslag, the group which promotes pelagic fish, is to spend nine million kroners promoting mackerel and herring. It wants to make both species more appealing to a wider audience as studies have shown that they tend to appeal more to the older generation. Exports of mackerel so far this year have fallen by 30 per cent, and while herring sales are up, revenues are down. The pelagic industry is also dependent on a limited number of markets, making it vulnerable to changes.
SEA HORSES SLOWCOACHES – UNTIL HUNGRY
A STUDY of seahorses by a wildlife and fisheries department team from Oregon State University has found the creatures to be among the slowest swimmers in the sea. Department head Selina Heppell said the main reason is probably their unique body shape. However, she says they are also very fast predators as long as the waters around them are still. Seahorses can eat tiny crustaceans, known as copepods, which can scatter in as little as two milliseconds. But even that is not fast enough as a seahorse can strike in just one millisecond.