Fish Update briefing Friday October 2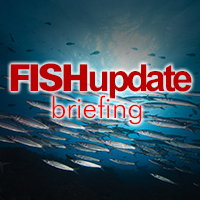 FRANCE TO TAKE MORE SEAFOOD FROM VIETNAM
FRANCE expects to take more seafood from Vietnam following a new trade deal between the EU and the South Asian country. Seafood is one of the key export products and is already a major seller to the US and Britain. Nguyen Canh Cuong, trade counsellor at the Vietnamese Embassy in France,  said France's demand for seafood and agricultural products was big. Exports of such products are expected to increase further in future because Vietnamese seafood products' exports are already up to strict standards when it comes to  the quality and food safety norms of European markets. However, many good quality Vietnamese products now face a fierce competition from similar products made by several countries enjoying the EU's trade incentives.
ANCIENT SCOT MAY HAVE SUFFERED FROM LACK OF FISH
A LACK of seafood may be the cause of traces of rickets found in a 5,000-year-old skeleton discovered in the Scottish island of Tiree 100 years ago. Dating back to 3,200 BC, the remains of a young woman were found in 1912 . But new scientific research had identified rickets in the Neolithic skeleton. They think the woman, who had mis-shapen limbs, suffered from a  lack of vitamin D in her diet, which could be down to a lack of fish and sunshine. Both are good sources of Vitamin D. In Neolithic times it is thought people farmed rather than went fishing and the woman probably wore a full set of clothing which prevented her from receiving  sunlight.
MAREL RAISES FUNDS FOR AFRICAN CHILDREN
EMPLOYEES  at Marel, one of the leading suppliers of advanced equipment to the seafood industry, recently held a global fundraising initiative to raise money for SOS Children's Village in the Ivory Coast. This is the third year that Tour de Marel supports the SOS Children's Villages in Yamoussoukro. Through teamwork and commitment, Marel employees have so far raised 150,000 euros which has been used to build and support a school providing education for 210 orphans and abandoned children in Yamoussoukro. The Icelandic company said Marel employees  would continue to support the children in the Ivory Coast and this year they  are hoping to raise enough money to build a library to help further develop their education.
VAMPIRE FISH IS BACK!
 IT looks like an aquatic vampire to someone who has not seen it  before, but the razor toothed Lamprey fish has returned to English waters. This terrifying looking fish once graced royal tables and is thought to date back millions of years. It is likened to a vampire because it sucks the blood of other fish and was thought to be extinct. But it is making a comeback and has been sighted in a number of English rivers, especially around Yorkshire. It is thought to have been eaten by the Romans and the Vikings and also by English medieval kings.