Fish Update Briefing, Friday, October 14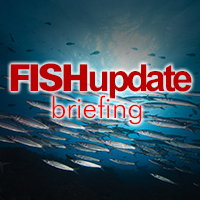 FISH MAY HAVE REGIONAL ACCENTS
BIOLOGISTS are investigating whether fish along the UK's coastline have regional accents for 'gossiping' and seeking a mate. Research has already shown that European cod have different dialects to their transatlantic American cousins. Professor Steve Simpson, a marine biologist leading a new study at University of Exeter, said: 'This species is highly vocal, with traditional breeding grounds established over hundreds or even thousands of years, so the potential for regionalism is there.' But as climate change drives cold-water species north, fish with different vocal repertoires could be pushed together and struggle to integrate, share territory and breed. The study also found 'chatty' fish are being drowned out by the noise of boat engines.
BRITISH CHIPPY WINNERS VISIT NORWAY
WINNERS from Britain's fish and chip contest in January this year have just spent a few days in Norway looking at the country's fishing industry. They were given an insight into Norway's sustainable fishing efforts before being taken on board the line fishing vessel Leinster Brisbane where they were shown how a modern trawler works. The visit ended with a gala dinner attended by senior executives from fishing and fish processing companies. Many UK chippies use Norwegian cod and haddock.
ARIAS FROM THE DEEP!
CAN fish sing? Scientists have recorded a choir-like sound coming from underwater. Robert McCauley and colleagues at Curtin University in Perth, Australia, recorded vocal soloist fish in the coastal waters off Port Headland in Western Australia over an 18-month period, and identified seven distinct fish choruses, happening at dawn and at dusk.  They say sound plays an important role in various fish behaviours, such as reproduction, feeding and territorial disputes. Nocturnal predatory fish use calls to stay together to hunt, while fish that are active during the day use sound to defend their territory.
IRISH SEAFOOD PLANS MAJOR AWARDS EVENT
IRELAND'S €1 billion seafood sector is to be celebrated by Bord Iascaigh Mhara with inaugural national awards next month. Entries from the fishing, fish farming, seafood processing, and retail sectors have been received for the awards. Ten experienced judges headed by Joe O'Flynn, director of AgriFood Business Partners, will be looking for excellence in skills, sustainability, innovation, and competitiveness across the fishing, aquaculture and seafood processing sectors. Judging panels have been assigned to their areas of expertise. Each will decide on the winners of three awards. Winners from each category will be announced at the awards ceremony in the Clayton Hotel, near Dublin, on November 17, with sports broadcaster Des Cahill as master of ceremonies. BIM CEO Tara McCarthy said Ireland's seafood sector employs more than 11,000 people directly and indirectly around the coast.