Fish Update Briefing, Friday, October 13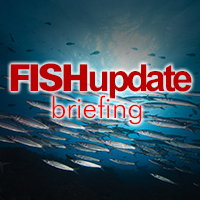 BIG RISE IN AUGUST SALMON BIOMASS
THE volume of salmon in cages at Norwegian fish farms was up by seven per cent year-on-year in August this year, said Seafood Norway, which represents around 500 companies, including some of the biggest players in the business. The figure is estimated at 685,000 tonnes of salmon. In July, salmon biomass was up five per cent year-on-year. Overall, production is expected to increase by two per cent this year.
DOVER SOLE LEAPS INTO FISHERMAN'S MOUTH!
A PART time fisherman got more than he bargained for when a Dover sole he had caught jumped down his throat – and almost cost him his life. The 28-year-old was fishing off Boscombe Pier, near Bournemouth, when the six inch fish wriggled out of his hand and leapt into his mouth where it remained stuck. The man then suffered a cardiac arrest, but fortunately paramedics were nearby and they took him to an ambulance, where the fish was removed with forceps. Ambulance worker Matt Harrison said: 'It was clear that we needed to get the fish out or this patient was not going to survive the short journey to Royal Bournemouth Hospital. It the most bizarre incident I have ever dealt with.'
FUNDING BOOST FOR CANADIAN SEAFOOD
THE Canadian province of Nova Scotia has just unveiled its national budget, which includes $2.5 million being put aside to help develop the aquaculture and fishing industries. The money will be assigned to the Atlantic Fisheries Fund, a joint venture with the Ottawa national government to help research and innovation in seafood. The province is also spending $4.7 million on cleaning up Halifax port waterfront.
SAUCY FISH EXPANDS FISHCAKE RANGE
THE Saucy Fish Co is expanding its fishcake range with a new Thai Spiced product, and at the same time securing a nationwide listing with Sainsbury's. Since venturing into Sainsbury's freezer aisles across the UK eight months ago, Saucy Fish has helped to grow the supermarket chain's frozen fish sales and draw a younger audience. The Sainsbury's listing will be supported by marketing activity in Saucy Fish's distinct style, across PR, social and paid media. The campaign will build on the success of their Frozen Just Got Cooler message, which reached in excess of 55 million consumers when Saucy first launched in the freezer aisle in February this year.