Fish Update Briefing, Friday, October 12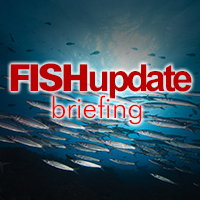 LEROY PREDICTS LOWER Q3 HARVEST
LERØY Seafood Group has forecast lower harvest volumes for the third quarter of this year. In its latest trading update, the Norwegian fishing and aquaculture company says it expects harvest volumes for salmon and trout to be 37,22 tonnes for the period between July and September, compared with 46,024 tonnes for the same period in 2017. Harvest volumes for the whole of 2018 should total about 112,625 tonnes against 115,487 tonnes in 2017. Lerøy also has a sizeable fishing fleet, catching cod, haddock and saithe, and third quarter catch volumes should total 14,282 tonnes against 17,029 tonnes for Q3 2017. Lerøy's full third quarter report will be released on November 8.
YOUNG'S LAUNCHES RECRUITMENT DRIVE
YOUNG'S Seafood has launched a drive to recruit up to 200 people in Grimsby following its capture of the Marks & Spencer coated fish contract from the Five Star Fish company, which is closing its factory in the town with the loss of almost 400 jobs. Young's has also moved salmon production from Annan in Scotland to Grimsby, which will entail extra work. On the debit side, Young's has reportedly lost a £30 million Asda contract to Grimsby rivals Albert Darnell, now part of the Surrey based New England Seafood group.
SHARES SOAR ON FISH OIL HEART CLAIM
SHARES in the Irish-American pharmaceutical company Amarin shot up recently after investors were told in a report that its drug Vascepa, a purified fish oil derivative, was linked to a 25 per cent reduction in the risk of major cardiovascular events, such as heart attack and stroke, in high risk patients. The findings have been hailed as a breakthrough in this field, and it is also seen as a fairly inexpensive drug. The study was carried out on more than 8,000 patients with serious cardiovascular problems.
HADDOCK A 'GOOD CHOICE' SAYS MCS
NORTH Sea and west of Scotland haddock, always prominent on fried fish shop menus, has been upgraded by the Marine Conservation Society from category three to category two, which means it can be considered a 'good choice'. The change comes after continued reduction in fishing pressure, which has helped to generate an increase in the size of the stock. And the MCS has also rated the Rockall haddock fishery as a category one for the first time, meaning it can be considered a guilt free 'best choice'.