Fish Update Briefing Friday November 25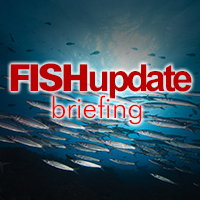 WAITER! THERE'S A LIVE SHRIMP IN MY SALAD
A British couple were shocked when they got a little more than they bargained for at breakfast time in Cambodia recently. The pair ordered a raw salad but were baffled when they lifted the lid of their dish to find live shrimp jumping out at them. The man who caught the clip on camera zoomed in on the shrimp in disbelief, showing the animals squirming and jumping around the table. He wrote online:  'I had decided to play it safe with the pork and fried rice.'  His partner, however, went for the shrimp salad thinking the shellfish would be cooked. 'But they were actually raw and once the lid was off, they started jumping around the table!' he added. The so called dancing fish is a delicacy in some parts of south-east Asia.
PRINCE HARRY WIELDS FISH KNIFE
PRINCE Harry turned fish merchant during his tour of the Caribbean this week. He visited a secondary school on the island of Barbuda, picked up a fish knife, and was taught how to fillet a snapper by a group of children. He joked afterwards and said it was not exactly 'Bake Off', adding: 'If you are going to take this home, don't tell your parents I gutted it.'
KEY TO INCREASING CATCHES
A recent study by Oceana has indicated that if total allowable catches followed scientific advice, EU fish catches could increase three times, including catches of sardine in the Cantabrian Sea, and cod and haddock in the North Sea. Fish catches in European waters could increase by 57 per cent if fish stocks were exploited sustainably and based on scientific advice, according to the new research. The study was led by renowned fisheries expert Dr Rainer Froese at the Geomar Helmholtz Centre for Ocean Research in Kiel in Germany and provides the most comprehensive survey so far of overfishing in European fish stocks, analysing 397 stocks compared to around 150 monitored by the European Commission.
FLOOD HIT SEAFOOD RESTAURANT TO RE-OPEN
A popular seafood restaurant in York, England, is about to re-open  after 11 months of forced closure caused by devastating flooding damage caused last Christmas. The Loch Fyne Seafood & Grill restaurant in Fossgate, in the city centre, was besieged by torrents of water when the nearby River Foss burst its banks on Boxing Day last year, in the worst flooding York had seen in a generation. Although the main dining area escaped the worst of the flooding due to its elevated position in the building, the basement floor, consisting of the office and the kitchen, was damaged beyond immediate repair. Loch Fyne Seafood & Grill carried out an almost year-long £150,000 refurbishment project, while staff continued to receive their contracted wages.