Fish Update Briefing Friday November 20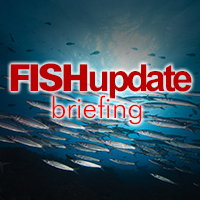 FISH MAY HAVE X-RAY EYES, SAY SCIENTISTS
SOME fish and amphibians may be equipped with X-ray vision, scientists have discovered. A group of researchers  from the Corbo of Washington University School of Medicine in St Louis have found that some fish, especially when swimming in dark waters, can turn on an enzyme in their eyes that supercharges their ability to see infra-red light, sharpening their vision in the muck and mire. The enzyme, called Cyp27c1, is related to vitamin A, which was already known to promote good vision. Vitamin A is a critical component of the visual pigment in eyes that facilitates sight. With the enzyme, fish and amphibians can tune their vision to match the environmental light. They say it explains why salmon can alter their vision as they leave the sea for inland rivers.
US STATE STEPS UP SEAFOOD AND AQUACULTURE EXPORTS TO CANADA
THE governor of Virginia Terry McAuliffe has announced new exports of Virginia seafood to Canada following his recent trade and tourism mission to the country. He says the trade deals represent significant new revenue streams for Rappahannock River Oyster Company  into this important Canadian market for the state's seafood and aquaculture sector. The announcement is the fourth significant development in Virginia's oyster industry, the largest on the East Coast. Governor McAuliffe said: 'These new deals are another step toward reaching my goal of building a new Virginia economy.'
FISHERMEN REEL IN MONSTER CATFISH
Fishermen were shocked when they reeled in a rare monster catfish near Phnom Penh, Cambodia, last week. Known as the 'royal fish' due to its size, the rarely seen giant Mekong catfish measured about seven feet long.
'This is really extraordinary,' said Zeb Hogan, a University of Nevada, Reno, biologist who has studied the species for almost 20 years.
'It confirms that this incredibly rare and critically endangered freshwater species still occurs in Cambodia and it is still making its annual spawning migration out of the Tonle Sap Lake and into the Mekong River.'
In fact, the catfish was larger than any other that has been caught in the US in the last 100 years, Hogan added. A 645 pound giant Mekong catfish was caught in 2005 in northern Thailand and is believed to be the biggest freshwater fish ever captured.
MAORIS FEEDING CHINESE DEMAND FOR FISH
THE China Daily News says that the Maori people of New Zealand are helping to satisfy  a growing domestic taste for seafood. China has now become the second largest buyer of fish products from New Zealand and especially from the Maoris. Hon TeUruroa Flavell, minister for Maori development, said Maoris have 50 per cent of New Zealand's total fishing quotas and 40 per cent of their exports went to China last year. China lifted tariffs on New Zealand seafood, both wild caught and farmed, in 2012.