Fish Update Briefing Friday November 13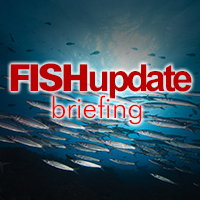 NEW YORKER CLAIMS TO HAVE HOOKED THREE EYED FISH
A New York fisherman is reported to have reeled in a three-eyed fish from a canal in Brooklyn, New York. The unnamed man claims to have used bread as a bait. A witness, Greg Hunter, who videotaped the creature as it lay on the ground near the fisherman, told the Huffington Post: 'Hey! A dude caught a three-eyed catfish.'
Some commentators have likened the incident to an early episode of The Simpsons, where Bart hooks a three-eyed fish near the Springfield Nuclear Power Plant.
WATCH OUT FOR FISH WITH BITE
MEMBERS of the public have been warned against releasing tropical fish after two piranha-like fish were discovered in a freshwater pond in Somerset, England. The red-bellied pacu, which have sharp top and bottom teeth and are native to the Amazon and Orinoco river basins in Brazil, were both more than 50cm long and weighed over eight pounds.
Experts believe the fish were deliberately dumped in the pond. Staff from the Department of Conservation Services and the Department of Environmental Protection were closely monitoring the pond. Dr Mark Outerbridge, a wildlife ecologist, said it was unclear whether the fish had reproduced locally.
'We urge the public not to release unwanted pets into the environment because of their potential to disrupt native ecosystems and introduce pathogens.'
SUPER SEINER ORDERED
THE Norwegian shipbuilder Kleven has signed an agreement with Danish fishing vessel owner Gitte Henning AS to build a 90.5m long combined pelagic trawler and purse seiner. The builders say it will be the largest pelagic fishing vessel within its segment.
The vessel is to be delivered from Havyard's Myklebust shipyard towards the end of 2017 and is being developed in close cooperation between the shipowner, designer Salt Ship Design, and Kleven. It will be able to operate in full diesel electrical mode or in diesel mechanical mode or in a combined hybrid mode. A total 7,720 kW of power driving a 5m propeller will deliver a bollard pull of more than 130 tonnes.
TERRITORIAL WAR 'THREATENS STOCKS'
DISPUTES in the South China Sea over territorial rights could affect the fight against overfishing, says a study by the University of British Columbia. The researchers say that if no action is taken, fish stocks will decline by between nine per cent and 59 per cent over the next 30 years, depending on the species. The study recommended dramatic reduction in all fishing activity.