Fish Update Briefing Friday November 11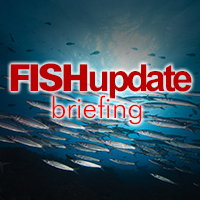 FISH FIND KEY TO EVOLUTION
A FOSSIL fish found in Yunnan, China, has provided new evidence on how the vertebrate jaw evolved. The 423-million-year-old specimen, dubbed Qilinyu rostrata, is part of an ancient group of armoured fish called placoderms. The fossil is the oldest ever found with a modern three-part jaw, which includes two bones in the upper jaw and one in the lower jaw. Researchers have reported their find in Science. Scientists had thought that placoderm jaws were only very distantly related to the three-part jaw found in modern bony fish and land vertebrates, including people. This was because the bones in placoderm jaws generally sit further inside the animals' mouths than do human jawbones, and they don't contribute to the outer structure of the face, said Per Ahlberg, a palaeontologist at Uppsala University in Sweden and a co-author of the study
EUROPE BUYS MORE SOUTH KOREAN SEAFOOD
EXPORTS of South Korean seafood products have increased by more than 10 per cent during the first 10 months of this year, thanks to rising demand from Europe and China, the Seoul government has announced. The country's shipments of seafood products came to US $1.75 billion during the January-October period, compared with $1.58 billion tallied a year ago, according to the Ministry of Oceans and Fisheries. Exports to the European Union, China and South East Asian countries increased 28.7 per cent, 25 per cent and 11.2 per cent respectively during the period.
CHUM SALMON BACK IN LARGE NUMBERS
RECORD numbers of chum salmon — two million fish — have returned to British Columbia's west coast this year, a development welcomed by the province's fishermen whose fortunes have been hit by the decline in sockeye salmon.  Lara Sloan of Fisheries and Oceans Canada said in an email to the broadcaster CBC: 'Catches in Johnstone Strait were some of the strongest on record. There have also been very strong returns of chum to the Nanaimo River.'  She said the spawning target was met early, with a total catch estimated at 150,000.
NZ SEAFOOD BACKS ANTARCTIC RESERVE
The New Zealand seafood industry has given its support to plans for a huge Antarctica marine reserve. It says the declaration of the Ross Sea marine reserve demonstrates protection, conservation, and sustainable commercial fishing can go hand in hand. Agreement to progress with the world's largest marine reserve, spanning 1.55 million square kilometres of Antarctic waters, was announced last week. Final details are still to be decided during 2017. The agreement will result in nearly three quarters of the Marine Protected Area (MPA) closed to all fishing, while allowing sustainable harvesting of fish and krill in other sections of the Ross Sea. The New Zealand seafood industry said it recognises the Ross Sea is a unique and special area, which at the same time supports a very productive and sustainable fishery.