Fish Update Briefing, Friday, November 10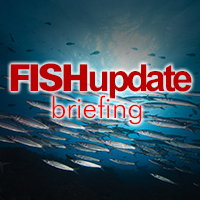 FEWER FISH WORKERS IN ICELAND
THE number of people working in Iceland's fishing industry fell by six per cent in the 12 months to last August. No official reason has been given, but there has been some consolidation, resulting in job losses in the fish processing sector, and a number of fishermen left the industry after a long strike, which ended in February. However, jobs in tourism and construction increased over the same period, suggesting some people may have deserted fishing for these occupations.
RECREATIONAL FISHING WORTH 10 BILLION EUROS
THE European Parliament Fisheries Committee report on marine recreational and semi-subsistence fishing within the European Union is said to be worth 10.5 billion euros and supports almost 100,000 jobs. The report also says that this aspect of fishing is biologically and economically important, and so should be included in stock assessment to ensure sustainability, and considered a sector for development alongside commercial fisheries and aquaculture under the Common Fisheries Policy.
CAPTAIN BIRDS EYE CREATOR DIES AGED 80
ANTHONY Simonds-Gooding, the man behind the creation of Captain Birds Eye, has died at the age of 80. He also dreamt up the memorable campaign which said Heineken beer 'refreshes the parts other beers cannot reach'. Dublin born, he joined the Birds Eye frozen foods company, which then had factories in Grimsby and Hull. At the time, Birds Eye fish products were facing stiff competition from the likes of Ross Group and Findus, so he pulled off a master stroke by unleashing the cheerful white-bearded Captain Birds Eye character on to our TV screens and he still features in ads to this day.
TOKYO FISH MARKET TO MOVE NEXT AUTUMN
TOKYO'S world famous fish market is expected to move to its new location next autumn. The Tokyo metropolitan government has set the time for relocating the operations of the Tsukiji fish market to the nearby Toyosu waterfront area between September and  October 2018. The old market attracted thousands of tourists every year. Following the relocation, the metropolitan government plans to start demolishing the renowned market in October and utilise the vacant site mainly as a logistics base for the 2020 Olympics.