Fish Update Briefing, Friday, May 4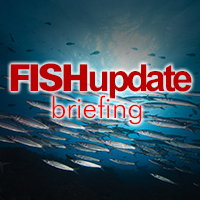 'PIRATES' FIRE AT UAE FISHING BOAT
SHOTS have been fired at a fishing boat from the United Arab Emirates, fuelling fears that pirates are becoming active in the region again. Fisherman Yousef Baroun said that a group of unidentified men shot at his vessel, about 60 miles off the coast in the northern part of the UAE. The attackers waved AK-47 assault rifles and shouted a warning. The crew, who laid flat to avoid the bullets, eventually managed to escape. The nationality of the attackers is not known, but tensions in the region have been on the rise.
NORWAY SALMON BIOMASS UP
NORWAY'S fish farmers are stepping up their production of salmon in expectation of growing demand. Seafood Norway (sjomatnorge.no), the industry body that represents most companies in the business, said the biomass or volume of salmon in cages at Norwegian fish farms, as measured by weight, rose by four per cent year on year in March. This represents an increase on the previous month this when the biomass was up by three per cent year on year.
FISH FARMING TO BOOST FALLING CATCHES
JAPAN'S fish catch has dropped for the fourth consecutive year. The country's fleet caught a total of 4.3 million tonnes in 2017, 1.3 per cent down on the previous 12 months, says the Japanese Ministry of Agriculture and Fisheries. A number of factors are thought to be behind the decline, including warmer sea temperatures and neighbouring countries tightening up on who can fish in their waters. The government in Tokyo now wants to expand fish farming as a means of making up for the wild catch deficits.
CONNIE LOSES HER FISHY SMELL
A WOMAN who had to endure taunts because she had a rare condition which made her give off a fish-like smell believes she has now found a solution. Connie Christy, a teacher from Sheridan, Indiana, has trimethylaminuria, an uncommon genetic disorder that causes sufferers to omit a pungent scent similar to fish, affecting the breath and sweat. In fact, the smell was particularly marked after she ate fish, eggs or green vegetables such as broccoli, because her body could not break them down. But Fox News reported that she has found help in the form of the probiotic digestion aids Plexus ProBio5 and Biocleanse, which have significantly reduced the odour problem.