Fish Update briefing Friday May 22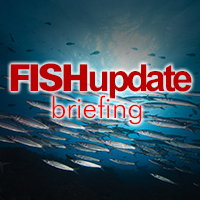 Aid for Maine fishermen
A FISHING group in Maine is to receive up to $175,000 in federal money to develop a programme enabling consumers to identify the fishermen who caught their seafood.
The programme will also allow buyers to find out where and when their seafood was caught.
According to the Greenfield Daily Reporter, the Maine Coast Fishermen's Association is getting the money from the National Fish and Wildlife Foundation.
The association is working with Gulf of Maine Research Institute and Hannaford Supermarkets to develop a system that tracks seafood from the boat, through the supply chain and to the grocery store.
The group hopes consumers will eventually be able to scan a tag at the store to get the information.
Democratic Representative Chellie Pingree says the programme will help fishermen by adding value to Maine seafood.

Stubborn sturgeon refuses to give in
FISHERMAN James Yerhart was pulled for almost a mile on the Mississippi River by a six foot long sturgeon that refused to surrender.
He tussled with the fish for almost an hour before being able to take a photo of his stubborn catch.
'He wasn't slowing down at all. He didn't care,' said Yerhart. 'He was just going wherever he wanted.
'After about 45 minutes, that was the first sign that he was slowing down. But then he ran up toward the dam and got into the current.
'I'm saying he took us a mile downstream, but I bet it was even farther than that.'
The outcome of the fish is still uncertain.

Sweet and sour news for Peru
PERU saw its fish landings grow substantially during March, with catches up to 152,400 tonnes, an increase of 20.9 per cent on the same month last year.
But the rise seems to be an exception as landings for the first quarter of this year are well down.
Figures show they fell to 391,000 tonnes, a decline of 32 per cent.
Peru is a major producer of fish meal, although most of its fish landings are for human consumption.

Cheeky seal invades fish market
CUSTOMERS visiting a fish market in Charleston, Oregon, were shocked to see a seal jump out of the sea, head straight into the shop and try to help itself to some of the seafood on display.
The large seal made its way through the fish market, looking for food, but it then thought better of things and headed back out to sea.
The incident was caught on CCTV and has been watched by thousands of people in the US and around the world.