Fish Update Briefing Friday May 13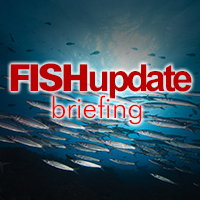 HEALTH DRIVING AMERICANS TO FISH
A GROWING number of Americans are turning to eating fish to improve heart health, reduce fat intake, and for a positive impact on brain health, according to a recent survey by Cargill Animal Nutrition. The survey shows that US consumers believe eating fish does more for healthy than taking fish oil supplements alone. The results of the survey are also in line with industry data that suggests the demand for fish is growing, driven by an increasing and more affluent global population that understands the health benefits of eating seafood.
HERPES VIRUS USED ON FISH PEST
THE Australian government recently announced an unusual initiative to eradicate a long-standing animal pest problem. To rid their streams and rivers of invasive European carp crowding out native freshwater species, officials plan to begin introducing a strain of the herpes virus — Cyprinid herpesvirus 3 also known as  carp herpes — into fish populations. In a statement  the  Australian Department of Agriculture and Water Resources officials described their National Carp Control Plan, which will be developed over the next two and a half years at a cost of approximately $15 million (Australian).Research by the Commonwealth Scientific and Industrial Research Organisation(CSIRO) has already determined that the virus kills European carp quickly, and that it does not develop in native fish. Carp were first brought to Australia over a century ago, and were designated as a notable aquatic pest species in the 1960s.
AWARD FOR YOUNG'S IT CHIEF
YOUNG'S Seafood's IT director Paul Nicholson has been welcomed into the prestigious Top 100 UK chief information officers by the industry's leading magazine, CIO. CIO is widely regarded in the industry as the leading information brand for Britain's chief information officers and IT directors and releases the list annually. Nicholson was recently invited to an awards ceremony in the Renaissance Hotel in London where he was named as number 74 on the Top 100 list.

NOT WHAT IS ON THE CAN
THE supermarket Lidl has been forced to issue a product recall for all tinned herring sold in its stores – as the labels failed to warn that the product contained fish, even though herring was  clearly mentioned on the can. Food Standards Agency (FSA) rules state that all possible allergens must be displayed on all products. Other allergens missing from the packaging of Nixe Herring Fillets include milk, egg, mustard and gluten. The alert issued by the FSA said: "Lidl is recalling cans of Nixe brand assorted 'Herring Fillets' (200g) because they contain one or more of the following allergens: fish, milk, egg, mustard and wheat (gluten) which are not mentioned in English on the label.