Fish Update Briefing Friday May 1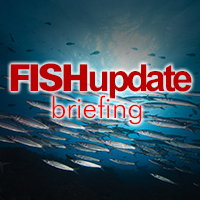 Sharp drop in Vietnam seafood exports
FISH and seafood exports from Vietnam are on the decline. Figures for the first three months of this year showed that revenue from overseas sales fell by 17 per cent to US $1.65 billion compared to the same period last year.
The Vietnam Association of Seafood Exporters and Processors (VASEP) said shrimp exports, accounting for 42 per cent of the seafood sector's revenue, reached $798 million, but were down 28 per cent.
Seafood exports to most major markets, such as the US, the EU and Japan, fell sharply, partly because of strong competition from India, Malaysia and Indonesia, the group said.
Shipments to China, meanwhile, rose 50 per cent by value, followed by Russia with 11 per cent and the ASEAN bloc with nine per cent.
VASEP expects the country's seafood exports to hit $8 billion this year, slightly up from last year's $7.9 billion.

Chinese demand will 'push up seafood prices'
THE influential South China Morning Post says that growing demand in China for western style fish will help push up prices over time.
It reports that ambitious fish farming plans will increase seafood production significantly in western European nations such as Ireland, Scotland and Norway.
But the expansion is not because locals are eating more fish. Rather, it's to meet rising Chinese demand for the high-end species that these countries produce.
Rising incomes have fuelled the appetite for luxury seafood in China. China is the world's biggest producer of seafood, with 64.5 million tons in 2014 – more than 48 million tons of that came from aquaculture.
Growth in output has fallen significantly from the double-digit rates of the 1980s and 1990s, when China piled into fish farming as a profitable export business with the potential to create lots of rural jobs. As Chinese consumption rises, the price paid by diners globally will rise.

New advice on eating fish in pregnancy
THE US Food and Drug Administration has revised its advice to pregnant women eating fish and says that eight to 12 ounces of seafood low in mercury is not only safe but aids fetal growth and child development.
Because of scares over mercury in fish, many women in America had stopped eating seafood but the FDA says low mercury seafood such as salmon, tuna, shrimp, pollock and cod are generally safe.
Fish high in mercury include swordfish and king mackerel and should be avoided by women who are pregnant or planning to become pregnant.
Dead fish cleared from Olympic sites
MORE than 50 tons of dead fish have been removed from waters where the Rio 2016 Olympic events are going to be held, sparking concerns about the safety of athletes.
The fish were collected by eco-boats in what has been described as a mass 'die-off'. The die-off took place in Rio's Guanabara Bay, where Olympic sailing and rowing events are due to be held.
Some athletes who plan to compete in the water events have voiced health and safety concerns over the waters.
Raw sewage is thought to be responsible for the death of the fish.