Fish Update Briefing, Friday, March 24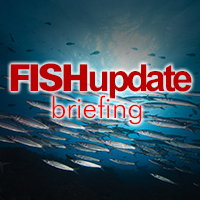 FISHERMAN HONOURED FOR CONSERVATION INVENTION
A New Zealand fisherman has been nominated for a major international award for a cage that allows under-sized fish to swim free. Large numbers of fish caught in conventional nets are undersized or of the wrong species and are dumped back in the sea, many having died already. Although he started out fishing in the conventional manner,  Karl Warr didn't like what he saw so he set out to change this. Wanting to fish in an ethical way, he came up with a cage attached to the back of his net that allowed smaller fish to swim free. The cage can be modified to accommodate whichever species are being harvesting that day. He also financed the project himself.
STRIKE HITS FEBRUARY FISH CATCHES
THE  total catch of Icelandic fishing vessels last month totalled  85,678 tonnes, down by four per cent, largely because of the fishermen's strike.  The demersal catch (cod, haddock, and so on) at 14,500 tonnes was down by 58 per cent on the previous year. But the overall catch was boosted by a huge rise on pelagic (capelin) landings which increased by 65 per cent to 65,000 tonnes. The fleet made an all out effort on capelin as soon as the strike ended and, fortunately, fishing was particularly good. Only a few pelagic boats are  now still fishing capelin as the quota is almost exhausted and capelin off western Iceland are either already spawning or about to. HB Grandi's  says its pelagic vessels Venus and Víkingur are both in port, although there is a chance that Víkingur could get one more trip out of the season. Víkingur docked at Akranes at with 1,600 tonnes in its tanks, which were caught in great many shots, according to skipper Albert Sveinsson. 'Another of its vessels, the Venus, is arriving back  with 2,400 tonnes. It is thought the prospect of missing out on the capelin was one of the main reasons both sides in the Iceland fishing dispute reach agreement last month.
CALL TO IMPROVE CANADIAN FISH LABELLING
CANADA gets an 'F' when it comes to labelling seafood products, says a report from SeaChoice international. The report reveals that seafood labelling standards in Canada are much lower than in the European Union and the United States, the country's two largest export partners. 'Even the basics, such as the species' scientific name and where and how it was caught, are not required on seafood labels in Canada, leaving consumers eating in the dark,' said Colleen Turlo, SeaChoice's representative with Halifax's Ecology Action Centre, in a news release. According to the report, of the six requirements for well labelled seafood, Canada's regulations only require two: the common name and the country of processing.