Fish Update Briefing, Friday, March 23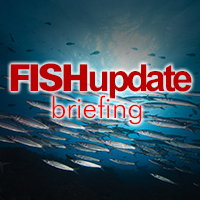 RETAILERS AND PROCESSORS IN FISH PLEA
SEVERAL major fish processors and retailers have joined forces in a plea to the UK government to implement tough fishery regulations after Brexit. Almost 20 organisations, including big names such as Tesco and Young's Seafood, said it was important to ensure all fish was sustainably sourced in order to maintain confidence in the UK seafood sector. The World Wildlife Fund for Nature says only a very small proportion of British fishing activities are closely monitored. The industry believes that if the right measures are taken, the UK could become a world leader in sustainability.
RESTAURANTS FACING CRISIS
AT least a third of the top restaurant chains in the UK, many of them major buyers of fish and seafood, are running at a loss, according to the latest financial assessment. Data compiled by accountancy firm UHY Hacker Young has found that 35 of the UK's top 100 restaurant groups are in the red, marking a 75 per cent surge on the equivalent number this time last year, with no sign of respite. Prezzo has recently announced it would close 94 restaurants. Also in recent weeks, Jamie's Italian has launched a rescue plan that will lead to branch closures and lower rents being negotiated with landlords. UHY said Britain is saturated with 'fast casual' dining chains.
FUKUSHIMA FISH DECLARED SAFE
THAILAND has expressed confidence in fish from Japan's Fukushima area, where a nuclear power plant was wrecked in an earthquake in 2011. After receiving its first shipment from the area, the Thai fisheries department's deputy director-general, Umaporn Pimolbutr, said that samples of the fish had passed the Office of Atoms for Peace's radiation safety test. Readings of cesium radioactive contamination were still much lower than the Public Health Ministry's limit of no more than 500Bq (becquerel) per kilogram. However, South Korea says it is still reluctant to take fish from the Fukushima region.
A PAIN IN THE…..!
DOCTORS in China have removed more than 100 bones from the backside of a man after he over-indulged in a bowl of fish soup. Chengdu Business Daily said that the 63-year-old senior from Sichuan province, who goes by the pseudonym Zhou, had feasted one night on a dinner of boiled carp soup. As the fish was relatively small, he thought it would be alright to devour it all – including the bones. Buckled up with pain he pleaded with his son to take him to hospital, where a CT scan revealed tight clusters of fish bones stuck in his rectum. The doctors, who said they had not encountered anything like this before, removed most of the bones. The man, somewhat sore, was later allowed  home after treatment.