Fish Update Briefing, Friday, March 2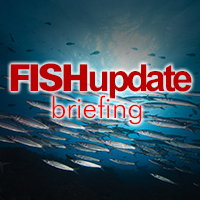 ENTIRE TOWN TO LOSE WEIGHT ON FISH
A community in north-western Spain has launched a pioneering fish inspired get-fit campaign involving everyone from children to the elderly. The campaign, by the municipality of Narón, is aimed at helping its 39,426 inhabitants shed a collective 100,000 kilos over two years. On the shores of the Atlantic Ocean, the traditional cuisine of Narón is based on seafood such as clams, hake, turbot and oysters, which are all being incorporated into the new diet. And local restaurants are also joining the initiative by incorporating more seafood into their menus. The plan aims to donate the equivalent of all kilos lost in food to local charities.
RICK STEIN MOVES INTO AUSTRALIA
SEAFOOD chef and TV presenter Rick Stein is to open a restaurant in Port Stephens, a coastal region in New South Wales,  Australia, later this year. Stein is best known for his seafood restaurants in England. The 80-room Salamander Shores hotel, bought by Bannisters last year, is on a beachfront site at Soldiers Point. The hotel will house a formal signature restaurant by Stein, who will work closely with head chef Mitchell Turner. The menu will include local king prawns, yellowfin bream, flathead, calamari, school whiting and oysters. 'The abundance of top quality seafood is a massive attraction,' Stein said in an official statement, adding, 'as is the proximity to the Hunter Valley's wineries.'
SOUTH KOREANS ACQUIRING TASTE FOR SALMON
SOUTH Korea's seafood imports rose by 10.5 per cent in 2017 due to a growing appetite for foreign shrimp and salmon. The country imported US $5.14 billion worth of seafood last year, with the total volume hitting 1.48 million tonnes, according to the Ministry of Oceans and Fisheries in Seoul. Sales of shrimp jumped by 17.3 per cent as various kinds of fresh and frozen products emerged as increasingly popular ingredients at local restaurants and in various processed food products. Salmon sales grew by 15.2 per cent on strong demand for products from the Atlantic Ocean.
ALIBABA OPENS SALMON SALES LINE
THE giant Chinese e-commerce organisation Alibaba – one of the world's largest such stores – has begun to distribute Norwegian salmon in a big way, according to the country's processors. A search for 'Norwegian'  or 'Atlantic salmon' on Alibaba  is now giving hundreds of hits, but providers demand minimum orders ranging from one tonne to 600 tonnes. Founded by the charismatic businessman Jack Ma, Alibaba had annual sales of $23.8 billion last year.