Fish Update Briefing Friday, March 17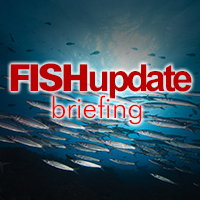 COMPANY FINED FOR CRUELTY TO LOBSTER!
THE long held practice of boiling a live lobster could soon land restaurants in trouble if an incident in Australia takes hold. An Australian seafood company was recently convicted of animal cruelty — for killing a lobster. Workers at a seafood company in New South Wales were seen by investigators 'butchering and dismembering lobsters' with a band saw, without adequately stunning or killing them. The company was fined (Aus) $1,500. It now throws open the argument whether boiling a live lobster, a common practice in many restaurants, amounts to the same thing, but this has yet to be tested in a court anywhere in the world.

FISH RESEARCH HELPING HUMAN HEART PROBLEMS
A STUDY by Manchester and Stanford scientists into the effects on fish following the 2010 Deepwater Horizon disaster in the Gulf of Mexico is helping scientists find out how air pollution affects human hearts. The rig explosion, which cost 11 lives, resulted in a major oil spill in the Gulf of Mexico, an area of water heavily populated with fish species. In a paper published in Nature Scientific Reports, the team analysed the effects of individual components of crude oil on the hearts of fish. By studying cardiac cells from pelagic fish such as tuna and mackerel that live in the Gulf of Mexico, the team identified phenanthrene, a polycyclic aromatic hydrocarbon (PAH) released from oil, as a key factor in disrupting heart function. They say that the processes in the heart which are affected by this PAH are common across all vertebrates, including humans, and underlie both the strength and the rhythm of the heart.


……BUT FISH OIL MAY NOT BE CARDIAC WONDER SOLUTION
A NEW study published in the journal Circulation has found that fish oil may not be as beneficial a protection against heart disease as was first thought, but it can help those who have already suffered from heart failure and similar problems. Researchers at the American Heart Association examined 13 clinical trials from various random patients, looking at the role fish oil plays in preventing and treating serious cardiovascular events such as heart attacks and strokes. The researchers found that for those who had never had heart disease, fish oil wasn't all that beneficial. But it did find that those who have already had a heart attack or had been diagnosed with heart failure, a daily dose of 1,000 mg of omega-3 fatty acids from fish oil supplements could reduce the risk of dying from heart disease by 10 per cent

NEW YORK'S OLDEST FISH MARKET GOES ONLINE
FOR almost 200 years the Fulton Fish Market in New York has been selling seafood in the traditional way, but now it has come up to date by going online to dispense seafood to restaurants across the US. Founded in 1822, it has launched a new e-commerce site, FultonFishMarket.com, with a special section for restaurant clients at Chef.FultonFishMarket.com. Buyers for restaurants can view and track orders, and can choose among several seafood criteria, including country of origin and whether fish was caught in the wild or raised on a farm.