Fish Update Briefing Friday, March 10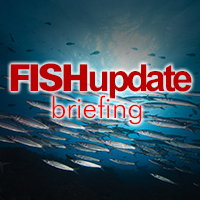 LEONARDO INVESTS IN FARMED SEAFOOD COMPANY
HOLLYWOOD star Leonardo DiCaprio wants people to eat more farmed fish – so much so that he has decided to invest in the industry. The award winning actor, who is also an environmental activist, is supporting a company called LoveTheWild, a brand which sells frozen seafood products that have been farmed. The star of Titanic said in a statement: 'Estimates show the earth's population approaching nine billion by 2050, putting tremendous pressure on our natural food resources. Seafood is a primary source of protein for nearly a billion people – but climate change, acidification and overfishing are putting increased pressure on our oceans' natural stability.' He said he hopes to raise the profile of LoveTheWild and boost sales by encouraging people to buy sustainably farmed species of fish, such as trout, catfish, and striped bass, instead of contributing to the depletion of stocks in the sea.
STRANGE FISH FOUND OFF NORTHERN AUSTRALIA
FISHERMEN is Australia have caught a rare fish which looks just like a large pink prawn. Trawlers reeled in the scaly creature off Australia's north coast. Despite years fishing the waters off Darwin, they were at a loss to explain the prehistoric looking animal. The strange fish was found by fishermen at a 'secret spot' close to Darwin's maritime boundary with Indonesia in a sea depth stretching 300 metres. It was later identified as a deep sea-dwelling armoured sea robin, not generally common to that part of the world.
CAPELIN PROVIDES RICH HAULS
WITH the capelin season now well underway, the Icelandic fishing fleet is reporting some heavy fishing off Snæfellsnes on the west coast of Iceland. The company HB Grandi said its trawler, the Venus, caught between 1,600 and 1,700 tonnes fairly quickly, which is now on its way to Akranes where it will be processed for roe extraction and freezing. Because the roe is highly valued in Far East countries such as Japan, capelin is a big earner for the Icelandic fleet, although the fishing season is relatively short. Guðlaugur Jónsson, skipper of the Venus, said there were large amounts of capelin on the grounds and the volume was growing.
CALL TO HELP YOUNG FISH TECHNOLOGIST
THE deadline for the 2017 Peter Howgate Award, which will help fund the attendance of a young fishing technologist at the World Seafood Conference in Reykjavik, Iceland, in September is fast approaching, say the organisers. This award, which is granted by the International Association of Fish Inspectors, will afford the winning applicant a career changing opportunity to gain insights and build networks in the global fishery sector. The conference, which was held in Grimsby in 2015, will coincide with the Icelandic Fisheries Exhibition from September 13-15.More information and an application form is available from www.peterhowgateaward.com.